Cross-Cultural Understanding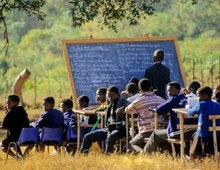 The Peace Corps is dedicated to promoting understanding between cultures and many of our lesson plans, stories, and activities focus on understanding the world from completely foreign perspectives. Share in our Volunteers' experiences, mishaps, and life lessons as they served in cultures far away from home.
Lesson Plan
In this lesson plan, students will examine how the unwritten rules of culture depend upon the context in which an event or behavior takes place.
Lesson Plan
In this lesson plan, students will wrestle with resolving contrasting values between cultures.
Story
Experience a classroom in Guinea-Bissau from two completely different perspectives.
Story
In a captivating and amusing account, the author shows just how challenging it is for someone to move to an unfamiliar culture and then deal with adjusting to the new environment.
Video
This entertaining eight-minute video shows you how easy it is to commit a blunder, a gaffe, a slip-up in another culture. Things as simple and normal to you as sitting on the edge of a desk may be insulting in another country. See 14 examples of cultural gaffes acted out, then get some advice on how to try to avoid making such mistakes when you travel to another culture.
Video
Find out what it's like to live and work with Roma children and their families in a former mining village Slovakia.
Interactive Feature
Educators and students in classrooms from eighth grade to college can benefit from the cross-cultural training workbook, Culture Matters, specifically developed by the Peace Corps to help new Volunteers acquire the knowledge and skills to work successfully and respectfully in other cultures.
Featured Themes