Back to School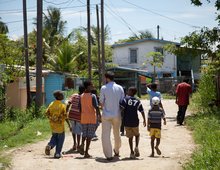 Now that the summer has come to a close, it's back to the classroom! Take your students on a global adventure with this lesson plan and resources that focus on cross-cultural understanding, foreign languages and art!
Lesson Plan
In this lesson, students will examine how the unwritten rules of culture depend upon the context in which an event or behavior takes place.
Lesson Plan
In this lesson, students will examine what it means to be "American" in the eyes of people from other cultures.
Lesson Plan
In this lesson, students will consider the immensity of the task the author undertook to learn Chinese.
Lesson Plan
Students will examine how and why the use of visual arts can be used as a means of educating those of diverse cultures.
Video
Learn how Michael Varga's life was profoundly influenced by Peace Corps service in Chad from 1977-1979. Learn about culture and daily life in his village, and hear how his experiences prepared him for life as a global citizen, diplomat and writer.
Video
Students will expand their knowledge of some of the potential pitfalls of cross-cultural interaction; then, learn how to navigate an awkward situation with grace, and how to help others do the same
Video
Learn how Peace Corps Volunteer, Theo Davis and his artistic community members found an innovative and effective way to educate others about the importance of AIDS/HIV prevention.
Featured Themes