Arts & Music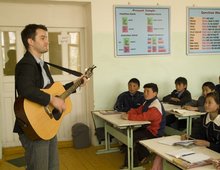 When words fail, the arts can be a universal language. A song can foster close friendships and a mural can bring an entire community together. Explore art, songs, and exotic musical instruments by accessing firsthand accounts of Peace Corps Volunteers in the field.
Lesson Plan
Students will examine several examples of visual arts and interpret the messages they convey. They will discuss how and why the use of visual arts can be used as a means of educating those of diverse cultures.
Lesson Plan
How do we best communicate the rich and complex visual world captured on a two-dimensional surface? In this lesson, students will manipulate photographs by cutting, reassembling, and adding two-dimensional materials, such as text, maps, charts, documents, notes, and drawings. Using essays and photos provided by Peace Corps Volunteers, students will create a photomontage to focus attention or alter viewers' attitudes regarding environmental issues in the United States and Africa.
Lesson Plan
This lesson is designed to draw upon the interest that young people have in cartoons, and at the same time introduce students to techniques of creating alternative storytelling styles. Based on essays and photos provided by Peace Corps Volunteers, students will create a narrative cartoon, a set of sequentially placed images that tell a story.
Lesson Plan
Students examine cartoons drawn by a Volunteer serving in the country of Jordan.
Video
While serving as a Peace Corps Volunteer in Turkmenistan, Dave Fossum learned to play Turkmen national music on a dutar, a two-stringed instrument. In the three parts of this slide show, learn about the dutar, appreciate the structure of Turkmen music, and watch Dave perform with his teacher in Turkmenistan. Also, understand how Dave's Peace Corps service inspired him to pursue a graduate degree in ethnomusicology.
Video
By painting a large, colorful mural Peace Corps Volunteer Theo Davis and his artistic community members found an innovative and effective way to educate others about the importance of HIV/AIDS prevention. With a message of "Life is Wonderful," this mural shows that what is often a difficult subject to talk about can be expressed in a way that not only educates, but shows that life is full of hope and celebration.
Audio
Hear the story that started the Afghan Children's Songbook Project, aimed at preserving traditional Afghan music for future generations.
Featured Themes