Africa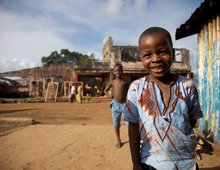 With the highest number of currently open Peace Corps programs, Africa also boasts complex and fascinating traditions. These resources offer samples of African life in the form of lesson plans, videos, and engaging activities.
Lesson Plan
Students will read and discuss "Declaration," a poem written by a Peace Corps Volunteer serving in South Africa. Students will focus reading and discussion on issues of gender as they appear in the poem.
Lesson Plan
The writer confronts issues of racial prejudice that she encounters in South Africa, years after the abolition there of the official policy of apartheid.
Lesson Plan
Students get to meet a victim of the HIV/AIDS pandemic in South Africa and see personally how it affects her, her community, and the author, who meets and befriends her.
Lesson Plan
Inspired by the slide show "Water Source Protection," featuring Peace Corps Volunteer Lauren Fry, students will take the role of environmental engineers. They will use simple materials to construct small-scale springboxes and make recommendations for improving their functionality.
Lesson Plan
Students examine what it takes to make a hero.
Lesson Plan
Students examine the culturally based impulse to share with others versus the impulse to watch out for oneself or one's immediate family.
Lesson Plan
Using essays and photos provided by Peace Corps Volunteers, students will create a photomontage that is calculated to focus attention or alter viewers' attitudes regarding environmental issues in the United States and Africa. While creating the photomontage, students will be challenged not to ask the question "What is this photograph of?," but to ask, "What is the photograph about?"
Story
With a decades-long nursing career to her credit, Mary Ann Camp was a hero before she became a Peace Corps Volunteer. Still, while many Americans her age considered retirement, Peace Corps service for Mary Ann meant three tours—in Lesotho, Malawi, and Botswana—tackling health, agriculture, and education problems with her host communities.
Story
Students will examine the universal nature of folk tales and evaluate the meaning of a tale told in Togo.
Story
Peace Corps Volunteer Amber Bechtel writes about the intersection of medicine and tradition in HIV/AIDS treatment in South Africa.
Video
Steven Jacobson taught farmers in Guinea how to produce agricultural products in a sustainable manner by reducing erosion of their farmland.
Video
Enjoy vivid scenes of Nigerienne girls and women as they work and live in their village, learn about health and nutrition, and play American games during Peace Corps Volunteer Vivian Nguyen's Girls Leading Our World Camp.
Featured Themes