Building Bridges
A Peace Corps Classroom Guide to Cross-Cultural Understanding
Introduction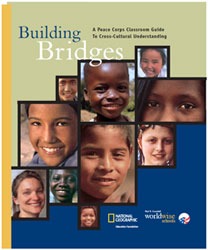 The booklet provides short, adaptable lesson plans and activities that build cross-cultural awareness, respect, and communication in your classroom. Lessons are flexible, easy to use, and standards-based. The introduction (pdf–33 KB) explains more about the purpose of the book, its audience (grades 6–12), the terms used, the standards addressed, and more.
Building Bridges was supported in part by the National Geographic Society Education Foundation
Unit I: Culture in the United States
Unit II: Culture Beyond the United States
Taking Action
To help students become more involved in the norms and sensitivities of other cultures, you may wish to guide them to real-life experiences that employ what they have learned in this booklet's lessons. These experiences may occur in the classroom, in the school at large, at home, in the local community, or in communities worldwide. Click here (pdf–21 KB) for service learning ideas.
Acknowledgments
For a list of contributors and reviewers for this publication, click here. (pdf–14 KB)
Download Building Bridges
Download Building Bridges as a pdf file here. (pdf–568KB)