Portrait of a Response Volunteer on the Caribbean Coast in Colombia!
By JAY TOTTE
Peace Corps Response Colombia 2011
Peace Corps Namibia 2007–2009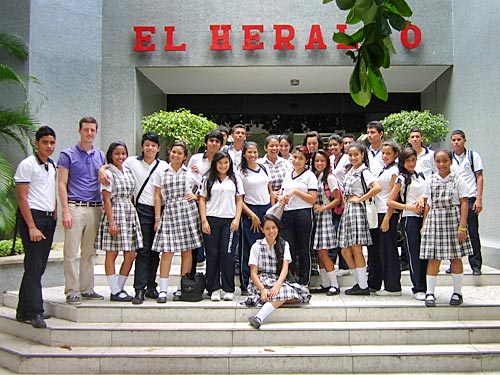 I certainly will never forget the morning I first made my way to the school where I was to work for the next year as a Peace Corps Response Volunteer in Colombia. I remember leaving the small, second-story apartment that I shared with a Señora and her daughter, walking down the quiet, potholed street, lined with the most exceptionally green mango trees alive with the sound of tropical birds flying above. I passed a woman selling fresh bread from a basket set atop her head and an elderly man guiding a donkey-led cart full of coconuts and limes. It was in that moment that I recollected my nerves the first day I walked to the village school in Namibia where I first served as a 2-year Volunteer with the Peace Corps. I then crossed a busy intersection of speeding buses, taxis, and motorbikes and approached the school alongside curious but cautious students in uniform. "Yes, this is so familiar," I remember thinking to myself, "here I am a Peace Corps Volunteer again!"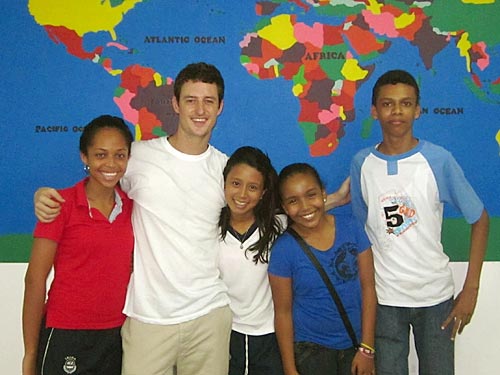 With the relative decline in violence resulting in a boom in tourism, coupled with the recent signing of the US-Colombia Trade Promotion Agreement (CTPA), there has been more demand than ever for a new bilingual generation in Colombia. In response to this need, Peace Corps recently reopened the Colombia program after it had been closed for 29 years, supplying English teachers to serve as resources to public schools in the Northern Atlantic coastal towns of Barranquilla, Cartagena, and Santa Marta as part of its Teaching English for Livelihoods program.
I was fortunate to be placed at a school selected to employ a pilot project to convert it into one of Barranquilla's first bilingual public schools. I worked with a motivated group of 11 English teachers, where for the first time in my collective Peace Corps experience, I wasn't always tasked with "leading". Together we co-taught daily classes, established a bilingual library, founded an English activities club, and painted school murals. My secondary projects partnering with the Ministry of Education to offer Saturday remedial courses for the district's English teachers as well as with the local Colombian-American bi-national center to host conversation groups were equally rewarding.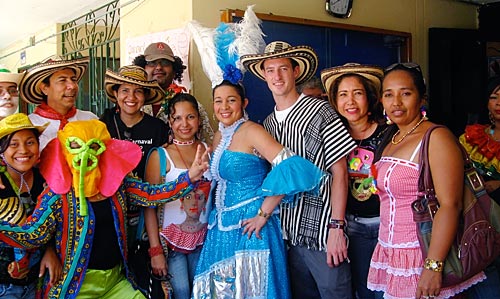 Life on the steamy Caribbean coast with its Carnival personality and beautiful beaches was not without its challenges. Many volunteers who first served in underdeveloped, rural villages found their experience in a city, as developed in parts as the States, to be at times confusing. In the urban setting it was more difficult to define our "community" and ways to engage it.
The nature of a Response position makes it an almost accelerated Peace Corps experience. The structure of the assignment made it feel similar to my first experience but the shorter service meant I needed to use the skills I gained in Namibia to "hit the ground running". In short, I needed to be very efficient and focused in my work to accomplish the specific goals within the limited time frame of the assignment.
On my last day, leaving the school after saying my goodbyes, I remember reflecting on my year's work. In just 12 months I had done my part in paving the way for the program's official opening with the incoming group of volunteers. I had made strong friendships and integrated into the Costeño culture. I had become fluent in Spanish, and learned new skills while further developing others. On that last walk home through the neighborhood, I realized that I had just finished a Peace Corps experience as rich as my first, even though it was only half as long.
Last updated Jan 30 2014
Open Positions
Search for open positions, apply, or modify an application here:
Program Overview
Learn more about Peace Corps Response with this overview of the expanded program.