A "Hands-On" Experience
By CHRISTINE GIANNONI
Peace Corps Response Bulgaria
Peace Corps Ghana, 1978-1980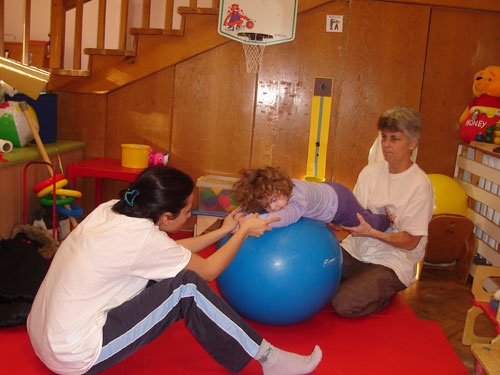 High above the Black Sea, on the outskirts of Varna, Bulgaria, sits the old summer estate of the Stancioff family. In 1994, the diplomat Ivan Stancioff transformed his former home into a center for children with disabilities. The center was named "Karin Dom" (Karen's Home) in memory of Ivan's cousin, who was born with cerebral palsy. Karin Dom was one of the first NGOs in Bulgaria to address the needs of children with disabilities in a community day center. During the communist era (1940s-1980s), most children with disabilities were hidden in institutions with poor standards of service. Karin Dom provides direct therapy services (physical therapy and speech) and Montessori classroom programs for instruction and social inclusion of children with various disabilities. The center's newest initiative is the development of an early intervention home visitation program for families of young children with developmental concerns.
Karin Dom is where I recently spent three months as a Peace Corps Response Volunteer. My role as a consulting pediatric physical therapist was to expand the evaluation and treatment skills of a group of four young, enthusiastic physiotherapists and to assist Karin Dom in developing and implementing their new early intervention program.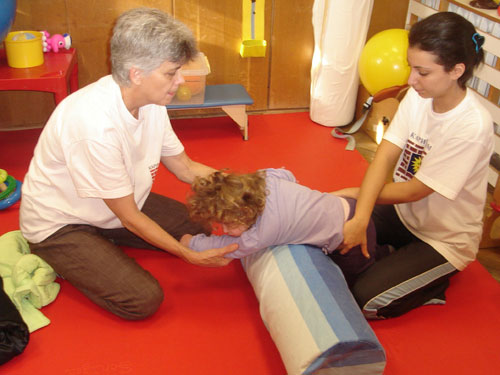 Mornings were spent in the physical therapy room observing treatment sessions, offering ideas, co-treating with colleagues, and demonstrating new ways of assessing and working with children. Most of the children had significant levels of cerebral palsy. The therapists had a solid understanding of handling and positioning techniques to relax stiff muscles. My goals were to strengthen the therapists' observational and problem-solving skills, demonstrate how to engage the children in meaningful motor learning activities (like play and functional skills), and involve the family in treatment ideas that could be carried out at home. Therapy in Bulgaria is deeply rooted in the "expert" model, wherein a parent hands off a child to be "fixed" by therapists. It was a challenge to get parents involved in therapy sessions for an exchange of knowledge so that they could continue to help their children develop at home.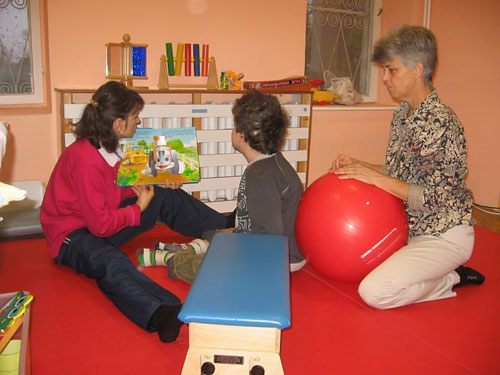 This challenge paralleled Karin Dom's most recent initiative of starting an early intervention program. As an experienced early intervention therapist, I was able to contribute to regional trainings on early intervention and to participate in several visits to the homes of children. Home visitation is an excellent way to break down barriers established by the expert model and allow for a partnership between parents and professionals to evolve. It was a great way for me to model family-centered services and get to know many Bulgarian families.
The staff members at Karin Dom were eager for trainings on new therapy ideas. During the afternoons, I was able to provide specific trainings for the therapists and staff on several topics including: the use of compression garments, gait training on the treadmill, soft tissue release, infant massage, and cortical visual impairment. I think that my most successful mode of teaching came from simply brainstorming with the other staff and parents on next steps for a child and how to help them reach their goals. Our motto became "let's try it and see what happens." My colleagues were always open-minded and ready to investigate new ways of thinking!
High above the sea, on the outskirts of Varna, Bulgaria, is the Karin Dom center where children with disabilities are treated with respect and given the chance to learn and integrate into their communities. Through the hospitality of my colleagues and their eagerness to learn, my experience at Karin Dom was a wonderful, shared success.
Last updated May 03 2016
Open Positions
Search for open positions, apply, or modify an application here:
Program Overview
Learn more about Peace Corps Response with this overview of the expanded program.
Media Library
Share your service experience through photos and videos.