Shaping the Face of Arts Education in Benin
By SARAH ELLISON
Peace Corps Response Benin
Peace Corps Benin, 2008-2010
I must admit, I had forgotten how humid it could be... Unlike my first time joining Peace Corps, this time I knew what to pack-more cotton underwear, less socks, and fewer sweatshirts-but no matter what you bring, you're never fully prepared for what you might find.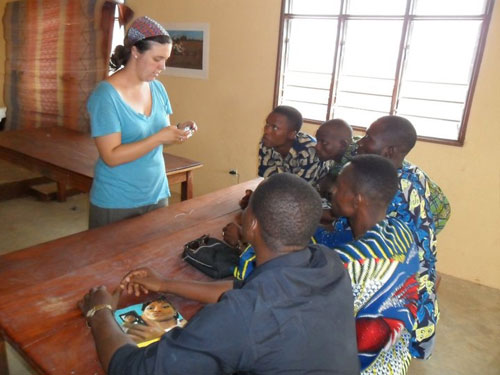 Coming back to the country of my original service has been incredibly satisfying. Benin-the small country in sub-Saharan West Africa that has been my home for nearly three years-is a nation full of joy, color, and welcoming people. It is also a country struggling to offer basic education opportunities to its school-age citizens.
The International Center for Art and Music in Ouidah (CIAMO) is a unique and powerful new branch of ArtForce Africa, an American nonprofit under Rachel's Network with a mandate to promote basic, high quality arts education in the developing world. CIAMO is located in the beautiful coastal town of Ouidah, Benin. Since CIAMO is just getting started, every day brings a new challenge and an unexpected surprise. My job as a Response Volunteer with CIAMO is to teach students basic visual arts. Having started my position shortly after the school opened, I have the unique opportunity to help shape the future face of CIAMO and elevate the status of arts education in Benin.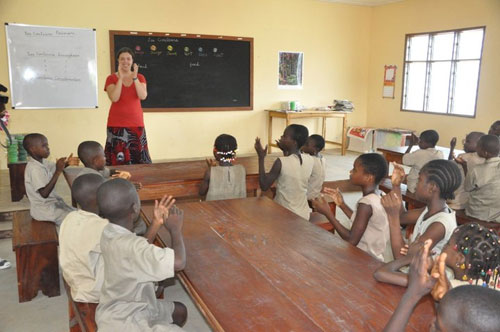 It's amazing how much impact CIAMO has already had on the community of Ouidah. We recently had open enrollment for new classes that were going to be offered at the center (such as trumpet, traditional percussion, theater, and watercolor classes). Within 24 hours, each of the 130 available spots had been filled. For weeks after registration ended, we continued to hear from students and their parents wanting to sign up for classes that had long since been unavailable. The interest in arts education has really surged in the community of Ouidah, and the acknowledgement of its importance is thanks to the wonderful job that the CIAMO team is doing.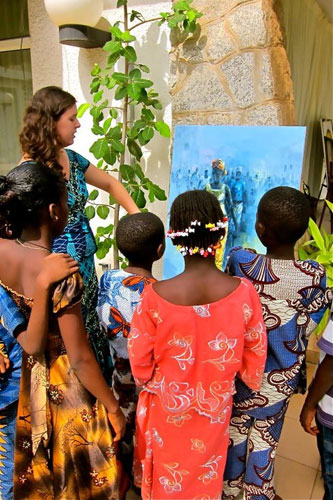 Teaching and working at CIAMO is a life-changing experience - for me and for everyone who enters our doors. The critical thinking activities inherit in music and the arts enhance student performance in other academic subjects. The lessons in problem solving and creativity give children the tools to succeed in the classroom and the potential to be future decision-makers for their country. Not only are we teaching Africa's next major pianists and painters, we're also teaching Benin's future leaders.
This Peace Corps Response assignment is also an amazing opportunity for me. I get to help shape CIAMO during its inaugural year. And since I hope to continue in the international education and development fields, there is no better assignment that I could ask for. The skills I am learning and the management experience I am gaining are unparalleled. As I set out each day to work towards building free and high quality arts education in Benin, I couldn't have asked for a better way to impact my second home-again.
Watch videos featuring the art and music activities that Sarah and her colleague, John Mark, are offering to students at the International Center for Art and Music in Ouidah, Benin!
Last updated Nov 25 2013
Open Positions
Search for open positions, apply, or modify an application here:
Program Overview
Learn more about Peace Corps Response with this overview of the expanded program.