Perspective From The Field: Education in Liberia
By JASON BURNS
Peace Corps Staff Liberia
Peace Corps Mali 2002–2004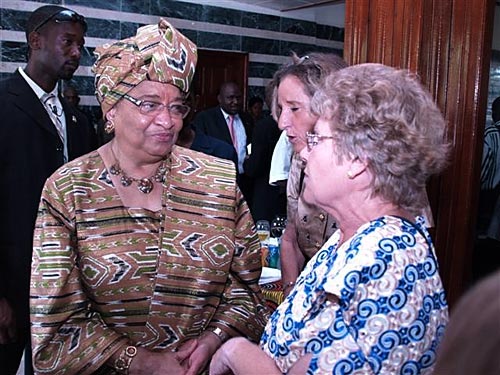 Peace Corps Response Volunteers (PCRVs) served a pivotal role in re-establishing the Peace Corps program in Liberia when they re-entered the country in 2008 and then maintained a significant presence there during the last four years. Liberia remains a country of great optimism and promise even while in the midst of a significant reconstruction effort, and only nine years out after the end of one of the bloodiest civil wars in the history of Africa. PCRVs are aiding in this post-conflict reconstruction effort and helping Peace Corps pilot programmatic innovations.
Education is the centerpiece of the post-conflict reconstruction effort here in Liberia, and Peace Corps has been requested by the Ministry of Education to help in its efforts to ensure that Liberian youth receive the quality education they deserve. In her June 2012 speech at the Peace Corps Headquarters in Washington, D.C., President and Noble peace prize winner, Ellen Johnson-Sirleaf said: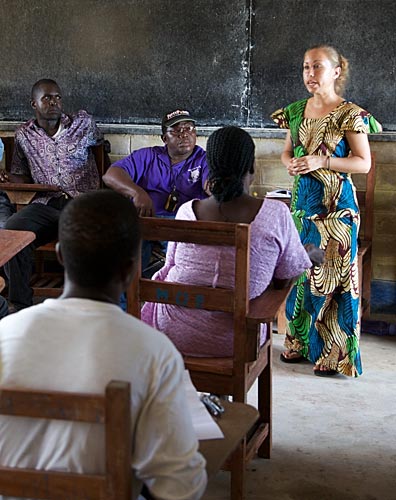 "We believe that the Peace Corps' work in public high schools holds the greatest potential for meaningful, long-term capacity building and impact in our country. The Volunteers bring much-needed academic skills, particularly in higher mathematics and science, where the need is the greatest. They bring expertise to a public school system suffering from a chronic shortage of trained teachers, particularly outside of Monrovia. As strong role models, they bring discipline, patriotism, dignity and long-term thinking that will be essential for Liberia's continued development."
The many years of civil unrest that took the lives of hundreds of thousands of Liberians and displaced even more, left the education system with an enormous shortage of qualified teachers. The lack of teachers, and the government's interest in educating the future leaders of Liberia, have helped formulate Peace Corps/Liberia's mission: to assist in providing a quality public high school education for some of the most promising, but least advantaged girls and boys. Although Liberia's program is small, Peace Corps' concentrated focus on secondary education allows the Volunteers to teach over 12,000 students every year, and places Peace Corps/Liberia on a trajectory to obtain its goal in providing Volunteers to every senior secondary high school outside of the capital of Monrovia by the beginning of the 2012-2013 school year.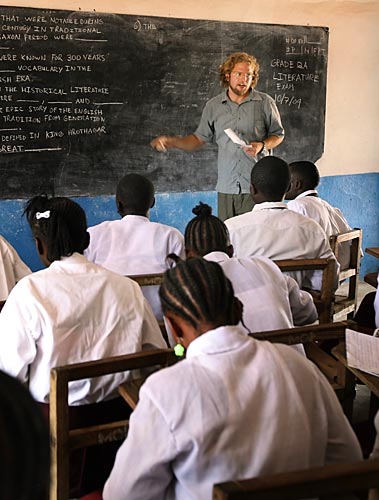 Peace Corps/Liberia's impact is growing as a result of the PCRVs' ability to compliment the work of the 2 year Volunteers in the field of education and through meeting the education system needs of the country. In the year to come, there are two strategic goals that PCRVs will be implementing. First, PCRVs will continue to act as the vanguard of the program by expanding geographically into the far corners of the country. In January, Liberia will welcome a new group of PCRVs who will pilot sites in the five most remote counties in the southeast of corner of the country. Second, PCRVs will be strategically placed at teacher training colleges to create a more sustainable solution to providing quality education for Liberian students. In August 2012, Liberia welcomed three PCRVs who are currently serving as associate professors in various subjects at Cuttington University. In addition to teaching content courses like calculus, biology and English, they are also teaching subject specific pedagogical classes. Increasing the Liberian capacity within teacher training institutions is arguably the most important objective of the project plan for Peace Corps/Liberia; therefore, two additional universities will be added by August 2013.
Peace Corps Response has proven to be an indispensible asset in reestablishing the Peace Corps program in Liberia, and towards meeting the evolving needs of a post-conflict country. The staff in Liberia looks forward to continuing to strategically place PCRVs to meet its programmatic goals, and to aid in Peace Corps' mission to promote peace and friendship.
Last updated May 03 2016
Open Positions
Search for open positions, apply, or modify an application here:
Media Library
Share your service experience through photos and videos.