Would I Sign Up Again? Definitely.
By ASHLEY BENSON
Peace Corps Response Guyana
Peace Corps Ecuador, 2006-2008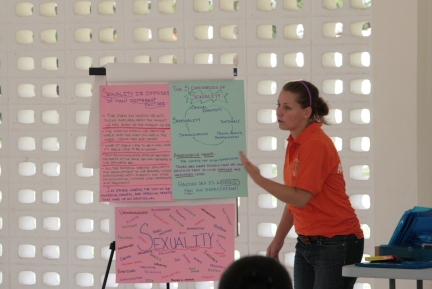 I can't believe that six months have come to end so quickly. My Peace Corps Response service has kept me so busy and has been such a gratifying experience that it was difficult to keep track of the months! This, I must say, is quite a difference from my service in Ecuador-where the first months alone were spent assessing community needs, deciphering what my actual role was, and reading bad novels, of course. But I think this is one aspect that makes Peace Corps Response so appealing-knowing what your project description is and where you will be placed before you get to country. It also allows you to do your own self-assessment beforehand to figure out how you can best contribute to your project. I think this is why I was able to get so much accomplished in such a short period of time.
My Response assignment consisted of working with a partner as well as counterpart organization. I was supervised through Catholic Relief Services, who carries out their PEPFAR-funded prevention initiative via the Roman Catholic Diocesan Youth Office's "Program on Abstinence for Guyana." I must admit that collaborating with a religious-affiliated organization was definitely different, but when all is said and done, we are still working toward the same cause: prevention. And even though the Youth Office's program was specifically focused on abstinence-based prevention, the staff gave me an outlet to facilitate other topics that are essential to youth development.
This outlet was, in fact, my primary objective: to revise and enhance the Youth Office program resources and their current abstinence manual. With this opportunity, I was able to include topics regarding not just the message of abstaining from sex; rather, abstaining from anything that could affect you in a negative or unhealthy way. This broader message developed into a 15-session curriculum encompassing topics such as self-esteem, goals, healthy lifestyles, discrimination, peer pressure, violence, sexuality, volunteerism, and much more. The curriculum, now known as "Discovering H.O.P.E. with Abstinence," was then utilized for a Training of Trainers (TOT) for all Youth Office staff. The TOT was held about a month before the end of my service so that I could receive any final feedback and suggestions toward manual content.
But the abstinence manual was not the only technical aspect of the job. I also had to assist with the implementation of several monitoring, reporting, and evaluation tools. I created a tracking sheet for community outreach and a more user-friendly reporting system. I also initiated pre- and post-testing to conduct knowledge assessment and behavior change with participants. With previous experience working for a non-profit in the states, I felt prepared and knowledgeable to support these developments within the Youth Office program. This is another advantage of Peace Corps Response-you've been there, you've done that, and you know what you are capable of accomplishing. This experience is what makes Peace Corps Response Volunteers an asset to the field.
The best part about Peace Corps Response, though? You still get to enjoy all of the wonderful things that you experienced from your previous service: gaining a new cultural perspective, having a "second" home, creating life-long friendships, and sharing what you've learned with others back home. So - would I sign up for Peace Corps Response again? Definitely.
Last updated May 03 2016
Open Positions
Search for open positions, apply, or modify an application here:
Program Overview
Learn more about Peace Corps Response with this overview of the expanded program.
Media Library
Share your service experience through photos and videos.