I've Still Got that Fire in My Belly!
By BOB ARIAS
Peace Corps Response Panama
Peace Corps Colombia, 1964-1966
I have always enjoyed the demands of volunteering, and I have always had that "fire in my belly" to work in different cultures and languages. I wanted to make a difference in myself and the individuals that I would be working with. I heard about Peace Corps Response through one of my coworkers. I was looking for a change and felt that Response might be perfect for me. Although I have experience living and working in Europe and North Africa, Latin America has always been my second home. So when I reviewed the list of open positions for Peace Corps Response, I was immediately attracted to the United Nations Development Program (UNDP) opportunity in Panama.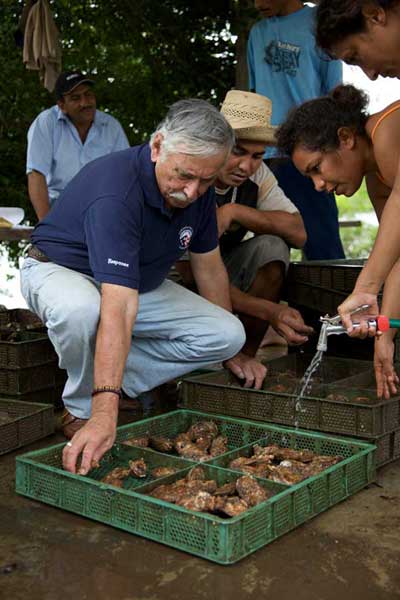 As a Peace Corps Response Volunteer, I work on four different projects that are funded by grants from the UNDP Small Grants Program. Three projects are community rural agricultural programs involving women; the fourth is a unique effort to establish a local front to harvest and market oysters. My goal is to bring tourism and recognition to the area, while creating opportunities for women to achieve financial independence by growing and harvesting their own local crops. My responsibility is to work with each project team on financial record-keeping, marketing strategies, team work and group dynamics, and community relations and accountability. Six months may not seem like sufficient time to fulfill all of the tasks, but the individual groups have demonstrated a deep desire to meet their goals. They are extremely patient, committed, and skillful in agriculture and ocean environments. They are always open to learn. I am proud to have them as my partners!
I find it useful to work in the fields with my Panamanian counterparts-not necessarily because I enjoy planting and harvesting, but because I can help them develop new techniques and skill sets that they did not know they had. The fields of rice, corn, tomatoes, guandu, garlic, onions, papaya, yuca, cilantro, and oysters are visual proof of our endeavors. We also have a tentative plan for next summer - watermelons, melons, and pumpkins! With the lack of rain and the uncertain effects of El Nino, we are contemplating not planting rice. This is a serious consideration for them. To contemplate changing crops in response to unpredictable weather patterns is a step in the right direction. I am proud of my counterparts; even if they do decide to plant rice next year, they meticulously discussed the pros and cons beforehand. The tourist effort and the oyster project have shown us that people are now asking the right questions of each other and of their communities.
For me, the beauty of being able to see and feel the cultural environment of Panama is beyond my expectations. Having been here for almost five months has given me the opportunity to see a country that is on the verge of some great accomplishments. It has also given me the opportunity to learn more and more each day. I find the people to be very friendly; they will go out of their way to offer assistance. I feel that my decision to apply for Peace Corps Response was the right one for me! Looking back, I did not think it would be this enjoyable - I thought it would be a challenge. My age was not a factor, nor leaving family and friends. I wanted to share the skills that I knew I had. The same motivation that led me to serve in the 1960s is what keeps me volunteering today. I would encourage any Returned Peace Corps Volunteer, especially older RPCVs, to consider applying for an assignment. You will share your rich life experiences, gain new perspectives of yourself, and give new meaning to the third goal of Peace Corps!
Last updated May 03 2016
Open Positions
Search for open positions, apply, or modify an application here:
Program Overview
Learn more about Peace Corps Response with this overview of the expanded program.
Media Library
Share your service experience through photos and videos.