Fellows in the Community
Kate Slavens
Master of Public Affairs
Indiana University-Bloomington, 2011
Mali, 2007–2009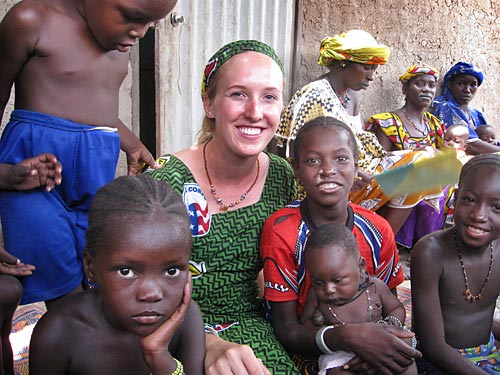 Fellows/USA has allowed me to continue to pursue the areas of interest I developed as a Peace Corps Volunteer. Not only am I studying a subject that I am passionate about, but because of my Fellows/USA position, I am able to work in an internship that gives me a chance to give back to the community.
Fellows/USA also allows me to continue my involvement in Peace Corps. Being in a community full of RPCVs gives me many opportunities to share my story, as well as hear about what other Volunteers did in other parts of the world.
I was a health education Volunteer in Mali, West Africa. I worked in conjunction with a local clinic to establish weekly growth monitoring sessions for babies. I also worked in two local schools, presenting weekly health lessons. In addition, I had a weekly radio show in the local language that touched on various health topics.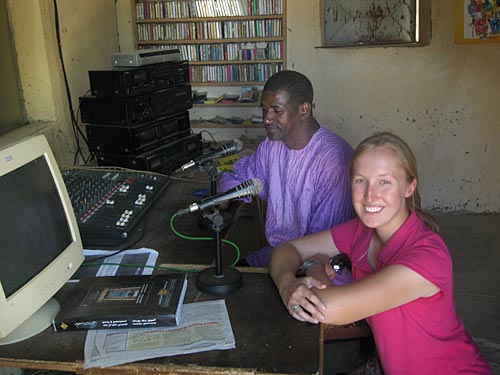 I am currently working on my Master in Public Affairs at Indiana University. My concentration is in nonprofit management, which has connections to my Peace Corps service. The idea of improving communities in a sustainable, responsible manner is emphasized both in my program and in the Peace Corps.
My community placement for Fellows/USA is at Middle Way House, a local nonprofit organization in Bloomington. Middle Way House is a domestic violence center that offers emergency shelter, transitional housing, and various counseling and outreach services, as well as two social enterprises that employ domestic violence survivors and provide them with a living wage.
I work in the fundraising and special events department, helping to raise money for this worthy organization. This placement has given me great experience in nonprofit management, which perfectly complements my degree. It has also provided me a great deal of personal satisfaction; I feel that I am helping to support an organization that provides vital, life-saving services. I have been inspired by my colleagues at Middle Way House, who work tirelessly because this is a cause in which they believe. Overall, this service component has greatly enhanced my graduate school experience. It keeps me grounded in why I'm here and what I want to work toward.
Last updated Jan 30 2014
Printable Benefits Overview
Graduate School
Program Overview
Graduate Programs Webinar
Learn more about our Coverdell Fellows and Master's International programs.
Coverdell Fellows Program Partnerships
Contact
the Paul D. Coverdell
Fellows Program
Questions?
Contact the Coverdell Fellows Program manager at:
Peace Corps
1111 20th Street NW
Washington, DC 20526

Phone: 855.855.1961 ext. 1440

Email: fellows@peacecorps.gov