Fellows in the Community
Ellen Clark
M.Ed. Secondary Education
The George Washington University, 2010
Republic of Georgia, 2007–2008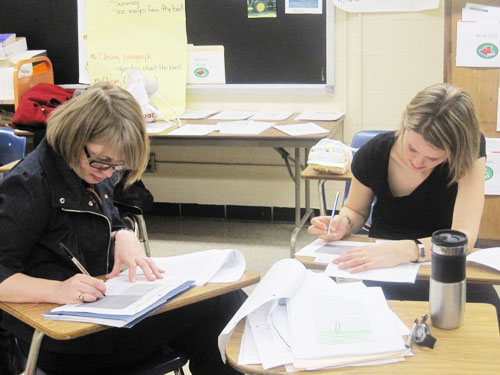 I served in the Republic of Georgia as a Peace Corps Volunteer, teaching English from 2007 to 2008. I was in a group that was evacuated due to a conflict between Russia and Georgia. I was very disappointed when we were evacuated. I realized how much I loved teaching while serving in Georgia, and I was eager to continue.
Soon after returning to the United States, I read about Prince George's County Teaching Fellows program with The George Washington University (GWU) on the Peace Corps website. After speaking with the program manager, a former Botswana RPCV and a GWU graduate, I knew that I wanted to be a Peace Corps Fellow and earn my master's in secondary education with a concentration in English for speakers of other languages (ESOL).
The GWU Peace Corps Fellows/USA program provides thorough teacher training and emphasizes the importance of becoming a reflective practitioner. There are four other Peace Corps Fellows in my cohort—all of us with various backgrounds and experiences, but with a common desire to become the best teachers we can be. Being a part of the fellowship program has not only provided me with a support system and a new group of friends, but also professional colleagues who serve as resources and springboards for new ideas.
As a part of my fellowship program, I taught at a middle school as an ESOL teacher during the fall semester and am currently teaching ESOL at an elementary school. I teach a diverse population in an increasingly multicultural community. It is exciting to be able to meet and work with people and students from countries such as Cameroon, Haiti, and El Salvador. I am scheduled to graduate from GWU in December 2010 and I hope to continue to work as an ESOL teacher for Prince George's County Public Schools.
Last updated Jan 30 2014
Printable Benefits Overview
Graduate School
Program Overview
Graduate Programs Webinar
Learn more about our Coverdell Fellows and Master's International programs.
Coverdell Fellows Program Partnerships
Contact
the Paul D. Coverdell
Fellows Program
Questions?
Contact the Coverdell Fellows Program manager at:
Peace Corps
1111 20th Street NW
Washington, DC 20526

Phone: 855.855.1961 ext. 1440

Email: fellows@peacecorps.gov
Find Local Events
Peace Corps recruiters appear at information sessions, campus and community events, and career fairs. Pick a state and find a Peace Corps event near you.