Burkina Faso
There are currently 110 Volunteers in Burkina Faso working in the areas of education, health and community economic development. During their service in Burkina Faso, Volunteers learn to speak the local languages, including: Bissa, French, Fulfuldé, Gulmancema, Gurunssi, Hidi, Itanikom, Jula, Kanuri, Kapsiki, Karunfe, Katsena, Lobiri, Lyele, Mandara, Mooré, Mungaka, Siamou and Yemba. More than 1,880 Peace Corps Volunteers have served in Burkina Faso since the program was established in 1967.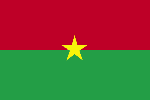 Learn more about what it's like to serve in Burkina Faso.
Make a Contribution
Learn more about Volunteer projects and how your contribution helps.
Vital Statistics
Population Average

12 million

Program Dates

1967-1987, 1995-present

Number of Volunteers

110

Total Volunteers to Date

1,880

Program Sectors

Education, Health, Community Economic Development

Languages Spoken

Bissa, French, Fulfuldé, Gulmancema, Gurunssi, Hidi, Itanikom, Jula, Kanuri, Kapsiki, Karunfe, Katsena, Lobiri, Lyele, Mandara, Mooré, Mungaka, Siamou and Yemba
Countries In This Region
Other Regions