How Many Volunteers Does it Take to Lay an Egg?
By GARIETY W. PRUITT
How many Peace Corps Volunteers does it take to get chickens to lay eggs? Apparently it takes at least six.
I live five kilometers up a dirt road in the middle of the South American continent with an amazing group of women who have 30 chicken coops and, together, over 1,500 chickens. I wish one of the six aforementioned Volunteers could take credit for the extensive egg production project I have had the pleasure to watch progress in my two years as a resident of a small village here in Paraguay, but nevertheless, I must give credit where credit is due, to the hard working women of the Paraiso Poty Women's Committee.
Two years ago, upon learning where I would live for the duration of my Peace Corps service, I read a small letter from a previous Volunteer who had worked with an international nongovernmental organization (NGO), PLAN International, to develop a project in the community where I was being placed. Little did I know how important that small, seemingly random letter would turn out to be for me and my two years with these women.
So where exactly do I and my other Peace Corps comrades fit into the mix, you might ask? It is a tale of small steps and slow progression over many years.
Seven years ago a rural economic development Volunteer, Lisa Davidson, was placed here in my village to work with two fruit production cooperatives in the area. During her two years, several women had attempted to join as full members but were told that women were not needed, nor wanted, in the organization. Lisa encouraged the seven brave ladies to start their own group and to forget the men. With her help, they formed the basis for a committee that now has earned national recognition. When her two years were over, Lisa was followed by another Volunteer named Jeffery Yurfest, or Penguino, his Spanish nickname. He not only helped strengthen the small women's committee, but helped them start the first of their many projects.
Penguino helped the ladies of Pariso Poty build three gardens that the women planted together to supplement their diets with fresh vegetables. Penguino was a driving force for the development of the group and its motivations to take on projects, but he, too, cannot take credit for the chicken coops because his service ended before the women had even conceptualized the project.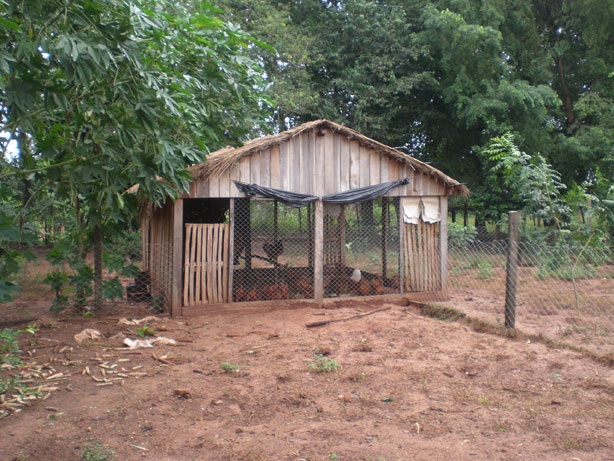 Getting their fruit to market was the Paraiso Poty committee's original reason for organizing. They sell bananas and pineapple in the national market, as well as to supermarkets in Asunción. Additionally, the committee produces melon and sesame. But that was not enough for these ladies. In 2006, the committee contacted PLAN Paraguay, the local branch of PLAN International, and expressed interest in a larger project--chicken coops. From what I understand, the original idea was not exactly as grandiose as the final product, but it has been a bit like a boulder tumbling downhill.
This is where Volunteer No. 3, the one who wrote me the letter, enters the picture. David Faso was working as a third-year extension Volunteer alongside PLAN Paraguay. It seems he was instrumental in finding funding for the chicken coops, to augment the funding provided by the NGO. What had been suggested as a modest small husbandry project had quickly blossomed into 30 individual chicken coops--one at each associate's home. Yes 30! The group had grown in size and by this point it was already 30 members strong.
In 2005, the community was left without a Volunteer, but the women's committee pressed onwards and was now in the position to solicit a Volunteer. They had become a driving force for change in their community. This is where I finally enter this history lecture. I am the forth Peace Corps Volunteer in this narrative. Are you keeping track? Don't forget, there are still two more to come!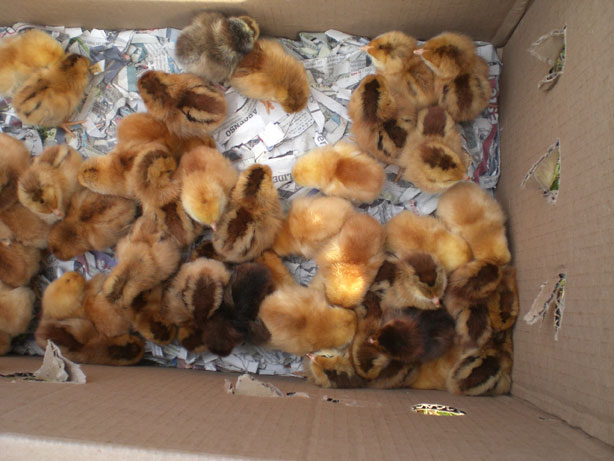 I am not a rural economic Volunteer like other two, I am a rural health extention Volunteeer and I knew nothing about chickens (although that was what the community had asked for). As soon as I set foot in my new home, I could tell I needed to learn about chickens fast. The families were already finishing the construction of the coops on my first visit and, not even six weeks after my arrival, 1,200 baby chicks arrived in boxes to begin the project.
The chicks arrived in August 2007 and wouldn't begin to produce eggs for six months, but as the chicks grew, the ladies grew as a group and added 28 new members. While we were waiting for the chickens to begin laying eggs, we worked on additional project details, such as potential markets for the eggs once production was in full swing.
Each family received 20 chicks and many bought more since the coops were designed to accommodate up to 100 full grown, egg-producing chickens. A project this size is often hard to manage and the PLAN representative had projects in other communities to attend to as well, so the ladies were essentially on their own. If all went as planned , I calculated we would have anywhere between 7,000 and 8,400 eggs to sell per week, beginning in February of 2008--just in time for Semana Santa, or holy week, in April.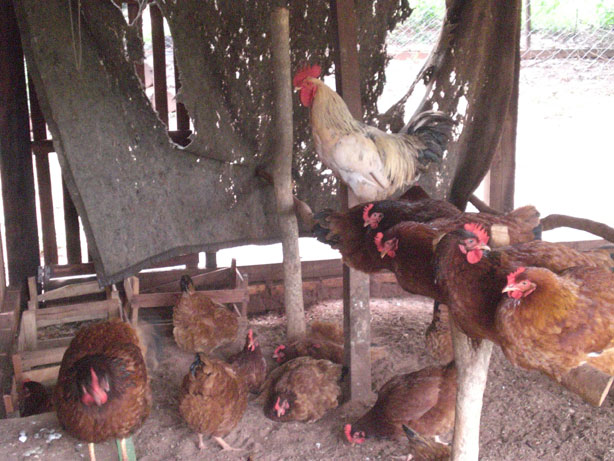 Did everything go as planned? Not quite. By the end of April we still had low egg production and many women were frustrated and ready to give up. As it turns out, these chickens were more finicky than usual house chickens and the group did need me to do some investigation into their care. For help, I turned to two third-year extension Volunteers who had recently moved to the area to work with PLAN, Justin Mog and Amanda Fuller (the last two in the long line of Volunteer support, which makes six!).
They developed a checklist of best practices, feeding regiments, and anti-parasite suggestions. The three of us, with some support from PLAN, went coop to coop, visiting with each señora to discuss various ways to increase egg output. Justin and Amanda were extremely helpful and came to several meetings to review everything. By July or August, the committee was finally at full egg production capacity, selling regularly to all their neighbors and at local markets in the area.
This project is multifaceted. First, the eggs are meant to augment the daily nutrition of each family participating in the project. Secondly, the proceeds from selling the eggs is meant to create a small weekly income for the family. Moreover, one egg per week, per household is to be donated to the school; as a group the ladies cook a hot meal for the elementary school students once a week, using the eggs themselves or the proceeds from their sale. The goal of this element is to not only improve the diet of the children whose mothers are taking part in the project, but of all the children living in the community.
The last component of the chicken coop project that these ladies recently undertook was to buy chicks of a different race, not egg-laying chickens, but chickens that mature to an edible weight within 45 days, specifically to sell for the Christmas and New Year's season. The coops, once built, can be used in so many ways and the women are always finding new ways to take advantage of them. Finally, due to the fact that this is a woman's committee, a wonderful byproduct of the new source of capital the egg sales provides is the very real potential for empowerment. As these women learn to manage the proceeds from their eggs, they will have more freedom to decide how that money is spent; generally thought to directly benefit each woman and her children's access to basic needs such as nutrition and health.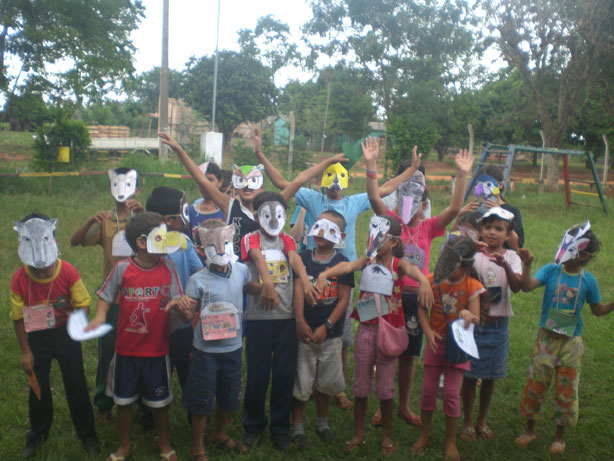 A year into the project, PLAN Paraguay provided funding for a joint project between the committee and the school parents group to build and maintain a school vegetable garden with the understanding that the vegetables are to be used in the weekly meal the committee prepares and to teach students the value of gardening. So now when the women cook for the 200 or so students at the local school, it is also full of vegetables from the school garden.
My contribution has been to incorporate the use of soy instead of meat to provide protein in a more cost-effective and nutritious way. Soy is cheap and easy to prepare and is a great option when the eggs themselves can't be used.
The chicken coops, the school garden and my Peace Corps nutrition information have come together perfectly to provide at least one good meal weekly for the kids. Every day these women provide evidence that with a little ingenuity, food security has never been easier. Global food crisis or not, the families of my village have never eaten so well!
(Gariety W. Pruitt is a rural health and sanitation Volunteer in Paraguay.)
Last updated Jan 30 2014
Find Local Events
Peace Corps recruiters appear at information sessions, campus and community events, and career fairs. Pick a state and find a Peace Corps event near you.