Local Women Fight Food Crisis One Onion at a Time
By KRISTEN OLSEN
Dear Gonri [Tonri, Tobre, Ouassa-Maro, Bokasee, Gnemasson, Kika, Beket, Banna],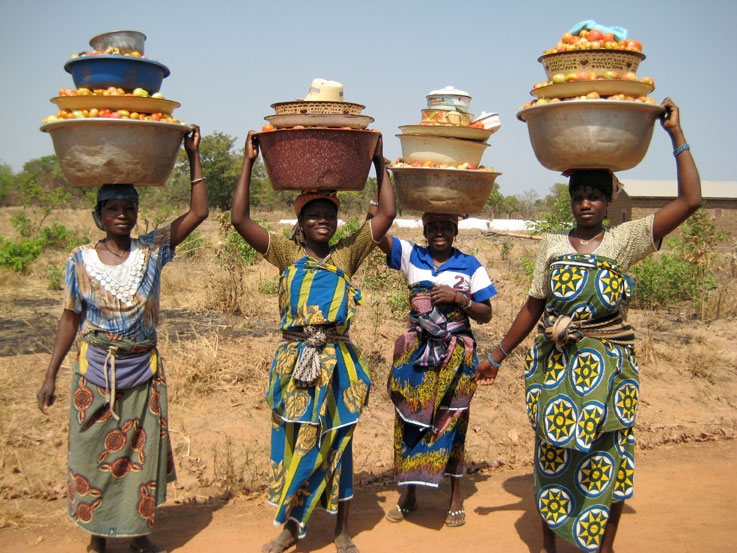 I am proud of you. I'm proud to say that I know you. Because of you, I am proud to call myself woman. You are the symbol of strength; baby on your back, basin upon your head. Its times like these in which I wish we all had the same mother tongue, just for a moment, so that I could truly express how I feel, how inspired I am by you.
Do the people of your village know? Do they know how special you are and how lucky they are to have you? That it is you who nourishes their bodies, you who rises every fourth day to pile vegetables into your basin (only after spending hours in the garden cutting, collecting, watering, and sorting the vegetables to be brought to market) to take the 5- kilometer (plus) walk to color the market with what you call "the good stuff"; the stuff to squish, pound, and stir into the sauce that makes every Beninese meal complete. You who wake early every day to splash water upon your garden by hand, taking care not to loosen too much soil in the process, only to return again in the evening to do it all over again. You who do the backbreaking work of pounding the soil with your hoe, prepping it to be turned into a nourishing bed to lay seeds of onion, lettuce, tomato, pepper and local legumes.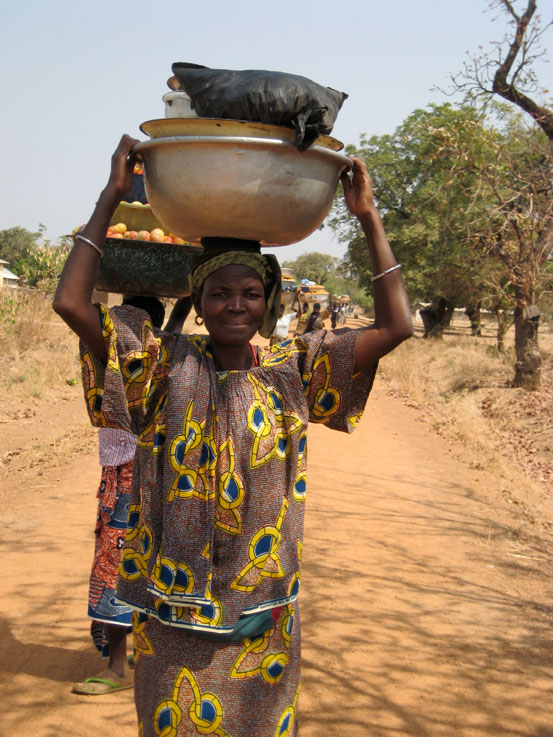 I remember the first time I walked with you to market. As we walked, I looked ahead to see a line of women walking ahead of me, turning to see behind me the line was equally long. There I was, the African sun taking advantage of the bare skin I had left exposed, closely following in the footsteps of the woman in front of me, mesmerized by the colorful cloth she had wrapped around her waist as a skirt, her posture perfect, trays of tomatoes balanced upon each other and the piece of rolled up cloth she uses as a buffer between her scalp and the basin, her hips swaying, walking with ease as if she were rather displaying a fancy hat than pounds of heavy vegetables upon her head. One faulty step and all the vegetables could go crashing to the ground. Every once in a while a woman stopped and ever so gracefully crouched to pick up the stray vegetable she had dropped off her head onto the dirt road. Finally, we've arrived at market, it bustles with activity. This is what all the hard work along the way was for. Each woman, now hoping to sell everything she came with, so that for her walk back, the basin will be empty and her money pouch full.
I remember my great uncle asking me when I got my invitation to serve in Peace Corps/Benin what I thought the food situation would be like in Benin due to the global food crisis. "Well," I said, "I don't know, exactly". Little did I expect then that in essence my primary assignment would be to work with the issue of food security on a local level. Not knowing what to expect, I've been impressed to find a group of motivated locals organizing to improve agricultural production for the community and financial opportunities for women.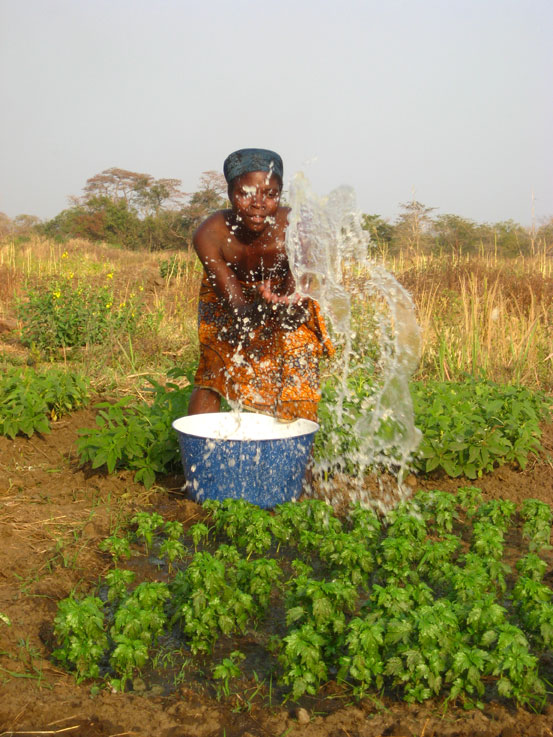 They're the Union Commune des Maraichers (Union Commune of Market Gardeners) and without them, the local market commune would be sparse in the way of vegetables. The UMC has served as an organizational example for other market gardeners in the region. Comprised of 14 groups spread over the nine villages that make up the commune, each group varies in size, has its own president, and specific vegetables that their members grow.
The women's physical dexterity is matched only by their personalities. The women dot the groups with color; emulating the intermingled patterns of the pagnes (local cloth used to make clothing) they wear, complementing each other like a well thought out design. If the women are the cloth, the president of the union is the thread that binds them. It was he who encouraged the formation of the union, making it easier for the individual groups to get financial and technical assistance to aid them in their work. A resident gardener himself, he brings technical know-how and organization to the groups with the demeanor of an old, trusted friend.
I have to admit, having spent so much time with these groups, it has been hard to see the lurking monster that is the global food crisis here in Benin. Hearing the three words "global food crisis," I've often imagined entire villages going hungry. Fortunately, in this area of Benin, that isn't the case due to the hard work of these women.
For the gardening groups comprised of the Bariba and Peul ethnic groups that inhabit this region, salutations and sharing are extremely important. I recently saw a phrase painted on a building stating, "To greet someone is the first sign of politeness." If you happen to meet someone while they are eating, following the long line of standard greetings such as "How is your health?" and "How is your family?" is the obligatory phrase, "Come and eat."
To begin eating in the presence of another without offering them some food first would be against Beninese etiquette. Walking through village during lunchtime, it is difficult to get to one's intended destination if choosing to take anybody up on this offer first. Typical to Beninese hospitality, it is standard to give everything you have to your guest. Once your guest is full and satisfied, the host will then eat, that is, if there is any food remaining.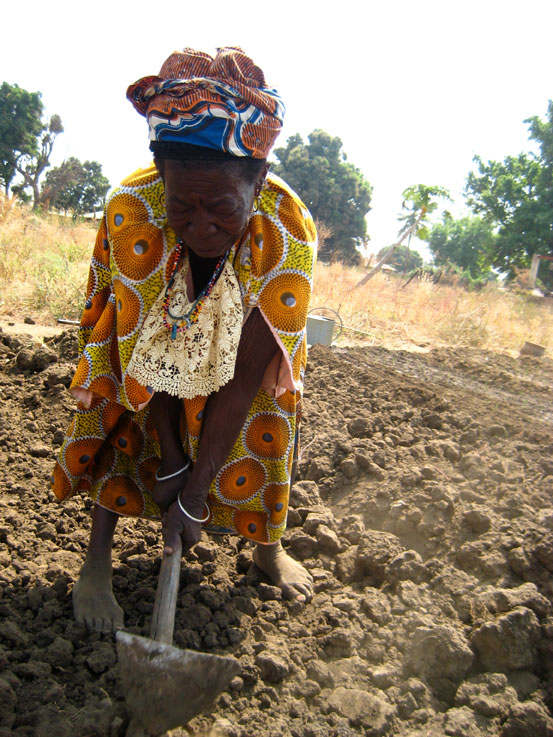 This communal, "if one falls we all fall"-type of attitude pervades every area of Beninese life. So not only is the gardening that the women of UMC do about them, it almost seems their civic obligation to wake each day, pick up that hoe, and pound away at the tired African soil. They do their part to insure that their community has access to nutritious vegetables to bring home to their families. They ensure that their family, friends, and guests will have something good to nourish their bellies the next time they say, "Come and eat."
After speaking with a friend who recently lost his 14-year-old son to an unexplainable illness, I realized that the Beninese by experience are fighters. Unfortunately, in Benin, losing a child is commonplace, and because of this the people know never to take anything for granted--tomorrow is not guaranteed.
Upon first glance, it's easy to think that a couple of small gardening groups can't do much in the way of fighting a global problem such as food security. But the one thing that UMC has showed me is that they can. For these women, gardening is not just work or a hobby but rather an activity that pervades every aspect of their lives. It gives them identity, self-worth, and satisfaction, meaning, purpose, and camaraderie. It serves as their work, but also gives them independence, the opportunity to contribute financially to the family, and serves as a social outlet. It's the place where generations, friends, and neighbors meet to work and share.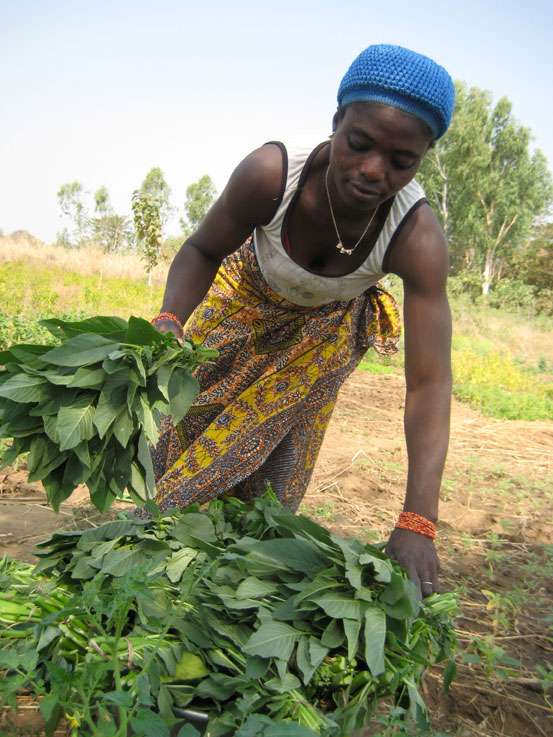 I'll often see mother and daughter both working in the gardens; mother's hands wrinkled and sun-worn, daughter with the next generation strapped snuggly to her back as she bends over a plant bed to do her work. This mother's touch a natural fit for the delicate onion seedlings that need constant care and attention to ensure they sprout into full sized onions, which often require numerous replanting and re-spacing to grow correctly. I'll see young girls and boys there to help their "mama" on their days off from school.
According to the president of the Union, the effects of the crisis seen in Benin has persuaded these women to work even harder, seeing the opportunity in gardening to bring adequate food supplies to the community. Throughout all these groups, hard work is never lacking. The name of one of the groups located in the village translates: "If you work, its for you."
However, success and hard work does not necessarily equate with problem-free. Of course there are problems: the soil is tired, water is short, and the product yields depend upon how dry the dry season actually is in a given year. But as far as I can tell, these women have already hurdled many obstacles, both individually and collectively. Into the future, together, we'll work to address their environmental and technical problems one by one. But for now, for today, we'll keep planting onions.
Dear Gonri, since I won't be able to say this all to you with a shared native language, let me say it, instead, the best way I know how: Na siara, Bey ka So ru (Thank you, job well done).
(Kristen Olsen is an environment Volunteer in Benin.)
Last updated Jan 30 2014
Find Local Events
Peace Corps recruiters appear at information sessions, campus and community events, and career fairs. Pick a state and find a Peace Corps event near you.