Sharpening the Tools of the Fight
By GAIL NORTON
"I won't get tested, I know I have AIDS. Look at me, I have all the symptoms. See the rashes on my arms? I am dropping weight each year! But they will just tell me to eat meat and drink milk, and send me home. I am poor, I can't afford those things!" bellows an elderly man from the audience over the pulse of the Bongo Flava music in the dusty, sweaty Iringa bus stand.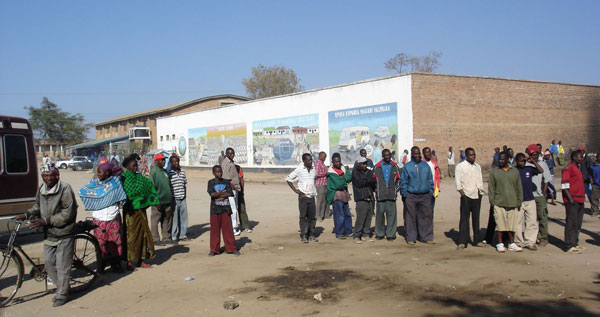 He and his comrades have heard the plea for testing a thousand times, but this may be the first time they're allowed to give feedback. We are informally interviewing the bus-stand loiterers about their views on testing and hearing their thoughts on everything from the fear of HIV-contaminated needles at the testing sites to rumors that witch-doctors have cured AIDS patients. Several are fervent supporters of HIV testing who toss around catch-phrases, looking surreptitiously at us for approval. Others rant with relish about conspiracy theories and spit out secondhand statistics on AIDS.
We have heard the elderly man's argument countless times; he can't alter his maize-and-beans diet to accommodate this demanding virus, and the experts say you must strengthen your body with good food in order to combat it.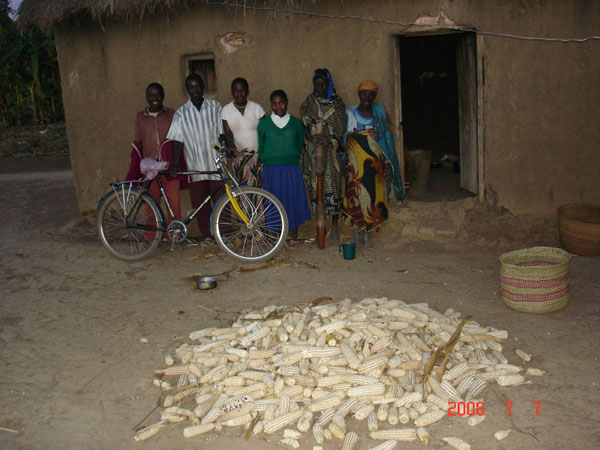 For those of us who grew up with fathers who refused to call something dinner unless there was a chunk of animal matter on the plate (and it couldn't be the same type of animal matter as last night), it's humbling to see the people of a Tanzanian village gulp down ugali, a Play-Doh-like lump of corn mush, with a small helping of beans or greens at almost every single meal. My friends here have taught me about all kinds of things I never considered to be food-corn stalks, pumpkin and bean leaves, termites (fresh and squirming or fried), raw sweet potatoes, chicken feet and beaks-but to them these are just accessories, and the only real food is a nutrient-barren ball of ugali.
This bus stand spokesman knows that his normal diet isn't providing the ingredients he needs to fortify his immune system, but he hasn't realized that he can vastly improve it simply with things he can afford-fruit and larger helpings of legumes and greens, for example. If I told him about vegetarians in my culture (those who consciously choose not to eat meat), he'd probably react as if I'd suggested cannibalism as a reasonable diet option. We try to convince him that only a blood test can prove his HIV status, and there are many measures he can take to improve his life if he tests positive. He doesn't seem to budge, and we'll never know if our words have penetrated his thick skin. His line of reasoning is very common; most people can rarely afford meat.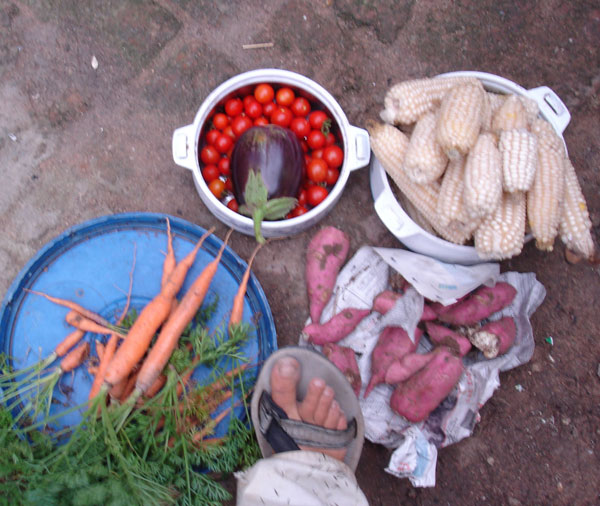 For those in my village, eggs are special treats, milk is for the wealthy, and meat is a delicacy you might indulge in a few times a year. Meat makes you fat, and girth is an indication of health and wealth. A potbelly is a sure sign of economic success. A skinny man is poor, malnourished or sick. For an American who grew up in a society that idolized emaciated stick-women in fashion magazines, this is a completely foreign idea. Here in Tanzania, people viewing those images might ask why a magazine would display these skeletal invalids. Such gauntness is the hallmark of AIDS that everyone can recognize. Now they've been told the importance of nutrition for AIDS patients, and they find it an impossible challenge, so why get tested in the first place? "We will just die sooner from worry," they say. Worry, everyone knows, makes you lose weight.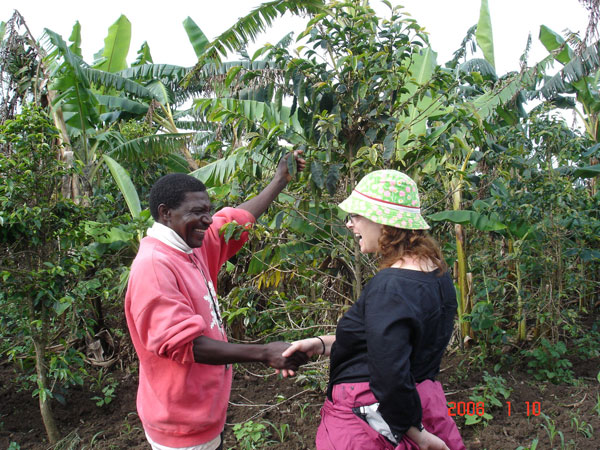 HIV and food security are viciously linked in this region. Women falling on hard times resort to prostitution; men take advantage of this vulnerability, and the disease spreads. In my village, where everyone is a farmer, those who test positive fail to harvest enough corn and beans to cover health care costs and feed their families. The carbohydrate-heavy diet soothes the hungry belly, but fails to nourish frail immune systems. The need for crop variation is important for Tanzanians hoping to have a secure income, but even more vital for those with HIV.
After HIV testers come to my village, a beautiful second wife with a toothpaste-commercial-worthy smile and her husband come to me with the news that the woman has just tested positive. I've tried so many times to put myself in the mindset of someone trying to process the fresh news of a positive HIV test; how would it feel? In dramatizations I've seen, the infected person always becomes hysterical with despair, or her spouse begins berating and beating her. I wonder if the couple is as audacious as they look when they enter my living room, nonchalant as if I had simply invited them in for tea. I explain, among other things, the importance of consuming a higher proportion of protein and vitamin-rich foods to slow the progression of the virus and prevent opportunistic diseases.
A few days later I wind through paths bordered by withering cornfields to visit the woman in her dark little mud house while her husband is at his other wife's house. She receives me cheerfully. I place a few eggs in her palm as a gift, but feel sheepish as I see seven hens darting around her courtyard. She serves me a steamy portion of pumpkin and wraps up some bambara nuts for me to take home. I'm impressed. She's strong, organized and, unlike her neighbors, has a hodgepodge of food in her storeroom and in her diet. I have a hard time convincing her that she is well-equipped to eat properly due to this variety of her pantry, despite her simple rural life. For the first time I see fear in her eyes as she asks me how long she has to live. I have to convince her that her HIV test result is an inconvenience but not an immediate death sentence.
She is plugging along now, but thinking of the rising prices of food, the diminishing yields of her crops, and loss of soil fertility, she worries for the fate of her high-school daughter. She is realizing the connection between her food and the monstrous disease silently working inside of her. But the brilliant smile returns as she reveals to me the patchwork of crops she plans to plant in her garden this year.
(Gail Norton previously served as an environment Volunteer in Tanzania and is now serving in the protected areas management sector in Honduras.)
Last updated Jan 30 2014
Find Local Events
Peace Corps recruiters appear at information sessions, campus and community events, and career fairs. Pick a state and find a Peace Corps event near you.