Generous River: Growing Rice in Sub-Saharan Africa
By ROSE VELMA LINDGREN
The broken fragments slipped between my fingers, leaving a chalky white residue that I rubbed off onto my ever-ready handkerchief as I tried to hide my disappointment. "Is this the only rice you have?" I asked the woman sitting behind the low wooden table under a paillote made of dry rushes. I already knew her answer would be yes, as I'd asked the same question of the two other vendors at my village's tiny market.
The woman looked up at me from under her large pagne headscarf-a faded ("well-loved," my mother would say) pattern of umbrellas danced across it-and, ignoring my question, asked, "How much would you like?" She'd seen me go up to each vendor and knew that if I needed rice, then I would have to buy it from her. I bought two cups for 200CFA (about 50 cents in U.S. dollars), twice the cost of last year's rice, and picked up a few tiny but scrumptious tomatoes and an onion before hopping back onto my bicycle to pedal home.
Togo was ranked sixth in the world among countries hit hardest by the global food crisis. Staple foods like bread and rice doubled in price in the space of a few weeks in a country where the average income is just under $1 a day.
My village should have been a success story, emerging out of the food crisis as a center for innovative agriculture and a model for reducing imports of staple foods. A few years ago, my village and a village two kilometers away were identified as pilot sites for the development of rice fields. Teams of Chinese technicians arrived to teach local cooperatives how to create and maintain rice paddies to best take advantage of the consistent source of water from the river Zio. Their dormitories stand empty on the edge of the village now, their legacy being the lush greens and deep browns of several kilometers of rice paddies bordering the river. Families, church groups, and neighborhoods collectively own or rent the fields and work them year-round. But the village is still poor and the rice farmers are struggling more than ever with debt.
Rice production requires large amounts of capital, not just to begin, but every year to provide fertilizer and rent the farm vehicles. It doesn't start producing dividends for at least six months. Because of this delay, most farmers cannot get loans from the newly established microfinance institution that requires that loan repayment start after one month. Instead, farmers turn to the government. But even these loans require payments too quickly. Farmers are obliged to sell their rice immediately after the harvest, when the market is glutted and selling prices are so low that there is rarely any money left over after repaying loans.
This year was worse. The blessing of a generous river became a curse as rain inundated the whole country, overflowing rivers and taking out essential bridges on small roads before affecting major arteries of transportation throughouth the country and halting trade, supplies, personnel, and rescue attempts. The rain continued into the "mini dry season," drowning the rice just before harvest, leaving farmers with a decimated return, and producing grains so brittle that many broke during processing-making them unmarketable to resellers while flooding the local marches with poor quality rice.
The problem is all too common: an over-reliance on the cash crop (whether harvesting rice or diamonds or oil), leaving local communities vulnerable when that crop diminishes due to external factors like weather or war. As a small enterprise development consultant, I am here to support the local community to find a way out of its cycle of debt and begin making enough profit to develop the village. It's a bizarre idiosyncrasy that the village has enough water to grow rice, but only one pump for drinking, cleaning, and bathing water during the dry season. A lack of electricity also forces the rice farmers to outsource the processing of rice, adding to their costs. Key areas I work in are making trade apprenticeships more accessible and developing money management skills.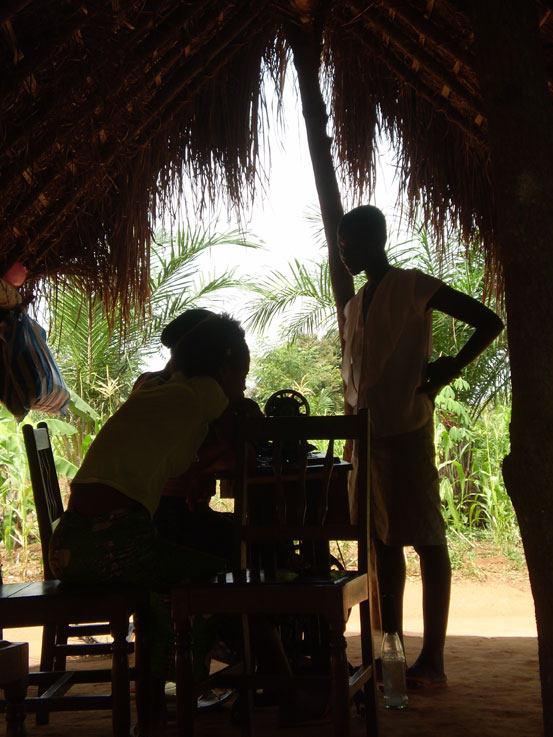 On days when I don't have to train others or attend a meeting, I often go to Da Essi's tailor workshop. I sit with her four apprentices, all taken on for half the normal apprentice fees because of their poverty, and I help out with small tasks like sewing buttons or taking measurements. And we chat, in Ewe and French, relying heavily on translations from Virginie, the senior apprentice and the only one who made it past primary school. Da Essi's workshop is just an open-air paillote a few meters away from her house on the outskirts of the village.
The air is cool and fresh and our conversation is underscored by the peeping of baby chicks and the quiet pumping of the foot-pedal sewing machines. The quiet is luxurious, but the isolation of the workshop means they don't get many customers. We have a plan. Da Essi and I are working on a grant proposal to build a training center for poor young people. The center will be closer to town and will expand Da Essi's ability to take on apprentices who can't pay their fees. As the business grows more popular, they will be able to afford more machines and train more young men and women.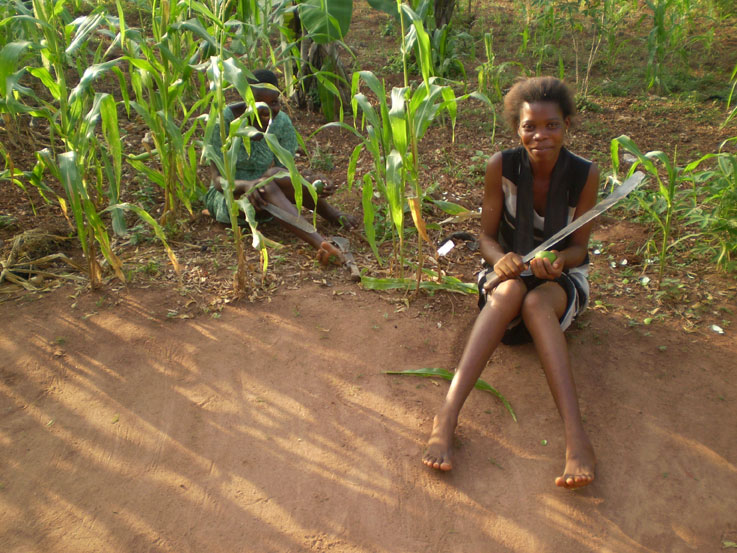 Everyone in my village is a farmer, even if it is meant only to produce food for the immediate family. When there isn't much tailoring work to be done-it's been a slow year-Da Essi's apprentices plant corn or cassava and harvest oranges and citrons from her trees. Creating a skill set outside of farming (dressmaking, for example) helps to reduce a family's dependency on cash crops and provide a source of income during the dry unproductive months.
Virginie, the senior apprentice, has become my closest friend in the village. She is almost at the end of her three years of service. As a child, Virginie dreamed of getting her high school diploma and becoming a sage-femme (wise woman, or mid-wife), but was pulled out of school when her father died. If there's no money to feed the family, there's definitely no money to send a girl to school. She was lucky to find a tailor willing to take her as an apprentice for half of the normal fees. In order to do this apprenticeship, Virginie had to leave her sister and mother behind to move to my village and live with her uncle. Virginie spent her most recent vacation making gari, an amazingly versatile bread-crumb-like product of cassava, to sell to help her save to buy a sewing machine after her "liberation" ceremony.
Virginie's uncle is the pastor of the local Baptist church. Together, we have recently started a savings and loans group among the church members, creating a safe place for people to save and mobilizing small amounts of money for business loans. Part of this year's investment in the church-owned rice field will come as a collective loan from the savings group, freeing them from depending entirely upon the external loans that require quick repayment.
Soon the rice paddies will earn back their reputation as a cash crop. In the meantime, the people where I live show such willingness to support one another: taking in orphans, training impoverished young people, and providing financial help and support, that they seem baffled when I praise their generosity. And then they raise their bowl of food and say, "Va midunu," one of the first phrases I learned in Ewe, the local language, because so many people call it out to me. It means, "Come! Let's eat together."
(Rose Velma Lindgren is a small business development Volunteer in Togo.)
Last updated Jan 30 2014
Find Local Events
Peace Corps recruiters appear at information sessions, campus and community events, and career fairs. Pick a state and find a Peace Corps event near you.