The Mango Thief
By JEAN-PIERRE LAROQUE
The gentle rustle of leaves shatters whatever dreams I might have had about taking an afternoon nap. Half dozing, I grumpily barrel out my front door. I tumble in the direction of the community garden.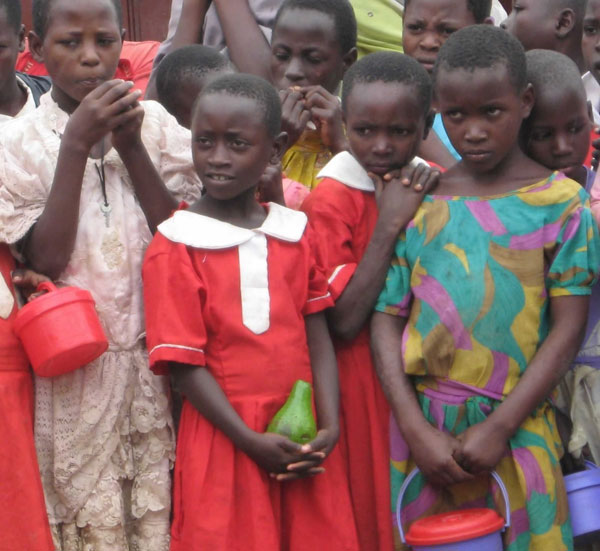 As a Peace Corps Volunteer in Uganda, I've been working in a village with the local school, Children's Sure House, to set up the garden. My hands skirt over the ground absent-mindedly in search of a rock to hurl at one of the neighborhood goats. Lately, they've had no problem negotiating the barbed wire fence to finish off a patch of half-eaten cabbage. However, when I look back up to aim my stone, my eyes do not encounter livestock, but instead, childlike blurs. They dash between the rows of eggplant and green peppers. The culprits salvage whatever forbidden fruit that they can and disappear into the forest.
Discouraged, I make my way back to the house and to that nap when I hear the rustle of leaves again. I look up into the shady depths of a mango tree to see a young girl attempting to disguise herself as one of the branches. The dress of her tattered school uniform fans out as her calloused feet grip desperately to the trunk. I look up to her face and she pleads to me with an innocent smile. I've got her cornered and she knows it. Despite our physical proximity, the language barrier makes it difficult for us to sensibly discuss matters. Instead, our confrontation digresses into a staring contest. Minutes pass.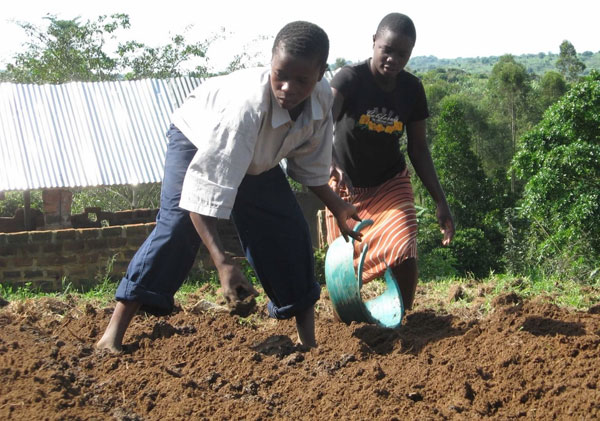 The thief is no stranger. She is one of my students at Children's Sure House. In fact, I took her for an HIV test last week. Unfortunately, she is just one of the many orphans living in my village whose parents have recently died from AIDS. My village straddles the Rakai District, one of the places where the disease was first documented in Sub-Saharan Africa in the 1980s. At the time, it was one of the epicenters, but infection rates have dropped. Yet every family has been affected by the toll of AIDS. An entire generation has been cut down in the prime of their lives, leaving behind the most vulnerable members of the community. Young children and their elderly grandparents are forced to make ends meet by doing work traditionally performed by adults.
Uganda is an agricultural society. Eighty percent of the country is rural and most of the population relies on subsistence farming; a time and labor-intensive activity. To many orphans, success in farming is measured in terms of survival. That's hard to believe because, at first glance, the country is such a fertile place. While most Americans rely on buying their produce from overseas, exotic fruits like pineapples, papayas, and jackfruit grow in abundance in every yard. Goats, cows, and chickens roam freely throughout town. Nevertheless, malnutrition is widespread. The best food grown isn't served on the family table, but sold at the market. Vitamin-rich fruits are not seen as food, but candy. Instead, filling starches like plantains and cassava are favored.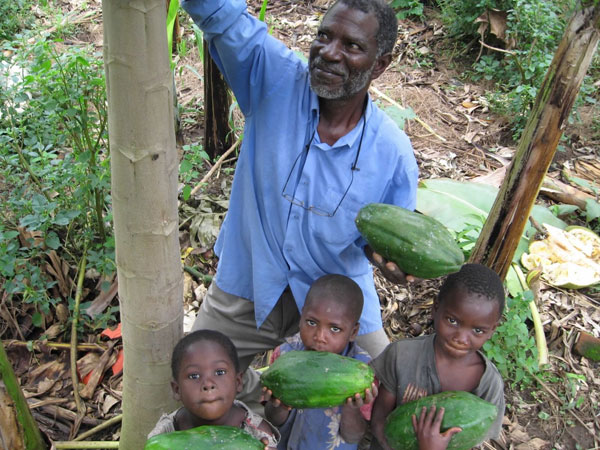 When I first came to Uganda as a community health volunteer, I met my counterpart John Ssentongo. Ssentongo is a Mzee, or village elder. Twenty years ago, when the AIDS scourge was at its peak, Ssentongo began to plant fruit trees on his 5-acre farm. His neighbors thought he was crazy. How would he earn money or eat? Today, Ssentongo's farm and family are flourishing.
AIDS is a disease that weakens the body's resistance to illness, but fruits and vegetables help boost the immune system. Ssentongo and I believe that if our village, particularly its youngest members, are exposed to knowledge of better nutrition they will go on to live longer, healthier, and more productive lives. During my time with the Peace Corps, we have turned his home into a model farm. We demonstrate to the community the importance of growing a nutritional variety of crops. The neighbors who had previously doubted Ssentongo now come regularly to seek his advice.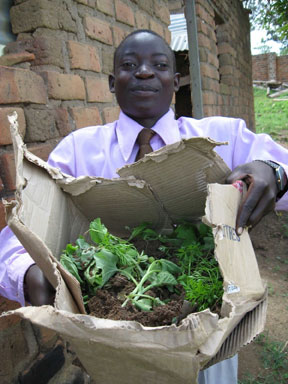 Meetings at Ssentongo's farm were so popular that we formed a farmer's co-op. The village comes together weekly to share agricultural knowledge, maintain a nursery bed, and build a seed bank. Farmers plant seeds at Ssentongo's farm and then transplant the seedlings to their own homes. The nursery bed has been so successful that we have donated plants to a local church group and to some of the orphans attending Children's Sure House.
Over the coming planting seasons, Ssentongo and I are ambitious to expand the model farm so that it can provide food for the entire student body of 850 children. We have started teaching agricultural vocational classes to the secondary students so they can garden in their homes. I dream that by the time that I have finished my Peace Corps service, I will have established a school lunch program. If students come to class with full stomachs, they can focus on future endeavors like applying to a university instead of wondering where they will get their next meal.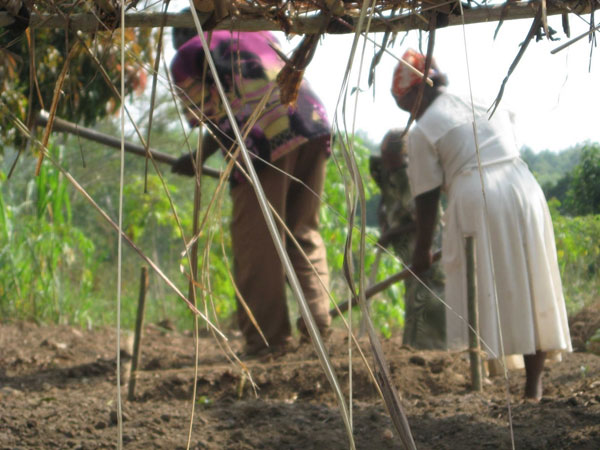 To be honest, it's been a challenge. This season I started a community garden on a small plot near my house, but the children are so hungry that they raid it before the fruits have time to mature. I know that kicking kids out of the garden now will benefit them in the long term, but figuring out what to do now with the girl in the mango tree is tearing me apart.
A matooke truck overflowing with green bananas works its way from the plantations of my village up the dirt road to the distant markets in Kampala. The road passing my house is primitive. Potholes and ravines cut deeper into the ruts with each passing rainy season. The truck creaks back and forth up the hill, scattering a few loose bananas to the ground. The wheels spin out pillars of dust that glide into the garden. I wince and hack from the dry, chalky taste. My pint-sized adversary uses the opportunity to escape.
She's already vaulted out of the tree and hurdling through a row of onions before I can convince my body to follow pursuit. I'm shocked that someone with such short legs can run so fast. The barbed wire fence is not goat proof, but it sure is childproof. I catch up to the girl as she is untangling herself from the prickly perimeter and clench sternly onto a thin wrist. She offers little resistance.
I lead her back to the tree. It is still too early in the season for the mangoes to be ripe. They are too small and more tart than sweet. Nevertheless, the girl stares hungrily at them. I reach up and pluck a fruit from one of the lower branches. I hand it to her and she grabs at it with two tiny hands. She bites into the mango as if it was an apple and then, remembering the cat and mouse game that has just transpired, she flees back into the bush. I hope that she returns; maybe not today because I want to take that nap, but when classes start back up next semester.
(Jean-Pierre Larroque is a community health Volunteer in Uganda.)
Last updated Jan 30 2014
Find Local Events
Peace Corps recruiters appear at information sessions, campus and community events, and career fairs. Pick a state and find a Peace Corps event near you.