Seeds of Success in Zambia
By JASON HAYS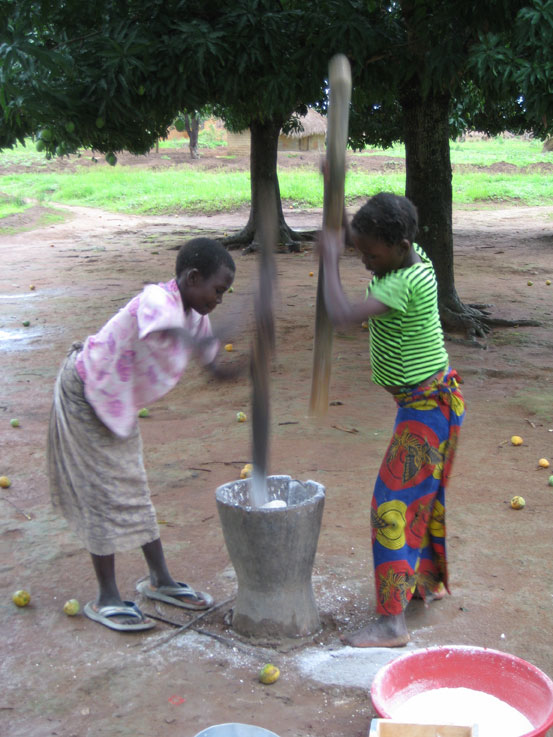 Thump-thump, thump-thump. The two young girls next door are pounding cassava into a powder; one-two, one-two. It's morning, 7:15, the neighbors have been awake for about two hours. I am still in bed. The pounding doesn't wake me any longer, nor do the roosters or goats. I've grown accustomed to these sounds.
A car drives by? No, to the untrained ear it sounds like a car, or maybe a lawn mower, but I know it is the cikayo, the IciBemba word for mill. It is never a car—I am a Peace Corps Volunteer living in rural Zambia—cars do not come out here.
School is in session, though the girls next door are not going, nor are many other kids. Their families cannot afford to send all their children to school—cannot afford in both the monetary sense and cannot afford to lose the help at home and in the fields. Typically, the boys get to go to school and the girls stay home and work if the families cannot afford to send all the children to school. The girls do the everyday household chores: sweep, look after their baby siblings who are only a few years younger, and prepare food.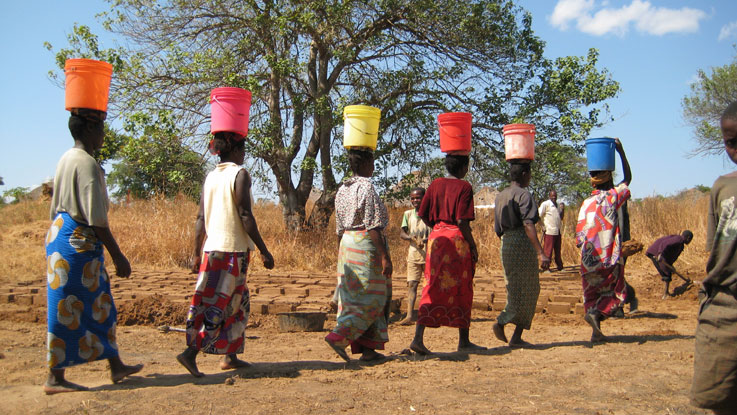 Nshima is the staple food in Zambia and in the northern part of the country it is usually made entirely of cassava. The cassava is pounded into a powder with a mortar and pestle. Most families can't afford to take their cassava to the mill so they spend a long and strenuous time pounding it by hand. The cassava powder is cooked in boiling water and served hot. It has the consistency of mashed potatoes mixed with glue and gets stuck to your fingers; nshima is not eaten with utensils.
The taste of nshima is good, well, not at first, but you eventually get used to it and now I look forward to it. I have even become so used to eating with my hands that I sometimes forget not to when at restaurants in the capital city. In the village I eat with a family, usually only the males, the women eat separately. We sit on a reed mat and share a communal bowl of nshima accompanied by green vegetables and small dried fish. The family usually doesn't have fish with their meal but since I'm a guest they give me more and better food than what they usually eat. Food security is a major problem in Zambia, yet they are still more than willing to give me what they cannot spare, even knowing that I can easily afford to purchase all the food I need.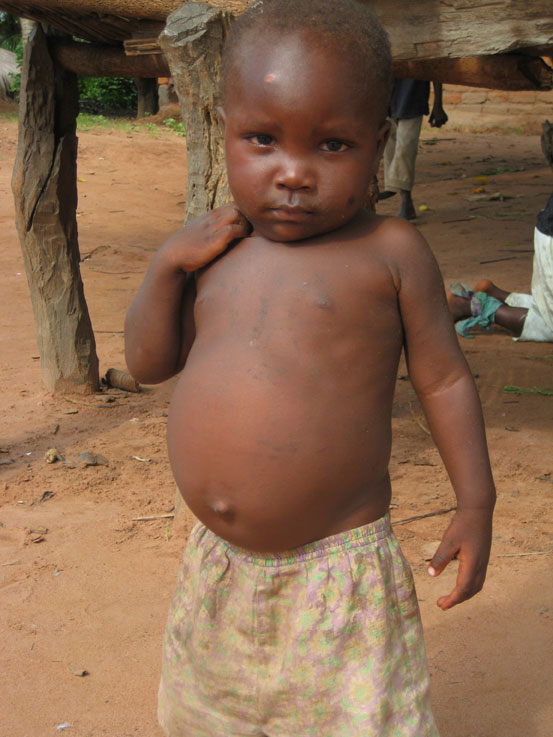 December through February are the hardest months for food. Food stocks are depleted, and seeds are in the ground but the crops aren't mature enough to eat. In addition, the nutritional value of nshima is practically nil, whether it's made with cassava, maize or both mixed together. Malnutrition is seen everywhere and everyday, from the children with distended bellies to the elderly with bodies so thin I can wrap my hands around their thighs.
One of my most successful projects has been seed multiplication. I received twice as much seed as I distributed, so this year I'm working with more farmers. I give the farmers a variety of seeds, most of which they do not have access to, with the agreement that they will give me twice the amount I gave them after harvest. Although I work with a variety of seeds, I concentrate mainly on Soya bean and Pigeon pea due to their high nutritional value, including much needed protein, and their ability to fix nitrogen, which improves soil for maize.
My farmers surprised me last year. Instead of cooking the Soya beans to be eaten with their nshima, they pounded the seed into a powder and cooked it in with their nshima. Not only was this Soya-enriched nshima more nutritious but it was also tastier.
My goal is to help farmers increase the amount of food they have and improve their nutrition. But with subsistence farmers most of the food they produce is consumed, leaving little to sell. The money they do make goes to pay for food, clinic fees, basic necessities, and education, typically in that order.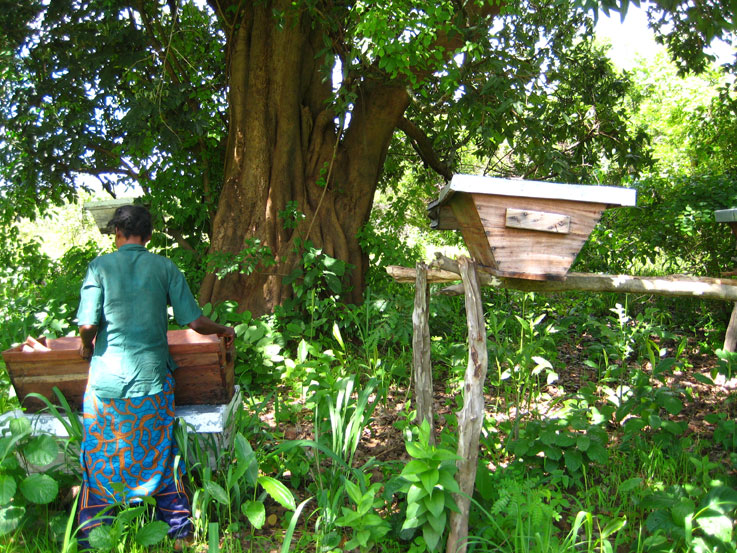 I have started introducing sunflower and sesame seed. The seed is great for making cooking oil, a frequent expense, and the leftover pounded cake is high in protein. In the case with the Women's beekeeping group with whom I work, the oil will be used as an income generating activity. Additional benefits of the sunflower are that it helps pollination, and increases honey yields. Women in Zambia don't have the same opportunities to make money as men do; helping them decrease their expenses on cooking oil while increasing their income gives the women more power at home, and more opportunities for their families.
After breakfast I will be going around visiting farmers. We will go over the best places to plant certain seeds, hoping that none of the seeds were eaten. A lot of work needs to be done in this community: improved educational system, water and sanitation, health services, road repair, etc. I think, however, that once food security is ensured, people will have more time and more interest to concentrate on these other concerns.
In a few months, I'll be leaving. During my two years spent in this Zambian village, I haven't seen signs of development like newly erected buildings, or people wearing brand new clothes. The changes here will be much more subtle and slow in coming. The farmers I work with will slowly increase their food security, their nutrition will get better, and they will start to increase the amount of income they generate. Success breeds success, and other farmers and families will begin to follow step with those around them who have bettered themselves. Some day the elderly will have enough food in their bowls, the kids will have the nutrition they need, and all of the children will be able to go to school, leaving none at home to stand over the mortar with pestle and pound the cassava into a powder. Some day, maybe not soon but with time, families here will be able to spend less time on manual labor and you'll hear less thump-thump in the village and more of the mill, and maybe someday you might even hear a car driving by, bringing more development their way.
(Jason Hays is an environment Volunteer in Zambia.)
Last updated Jan 30 2014
Find Local Events
Peace Corps recruiters appear at information sessions, campus and community events, and career fairs. Pick a state and find a Peace Corps event near you.