What Do Volunteers Do?
Peace Corps Volunteers represent the United States abroad as they work in a wide variety of positions. Assignments vary, however, nearly all Volunteers fall under one of the following general categories: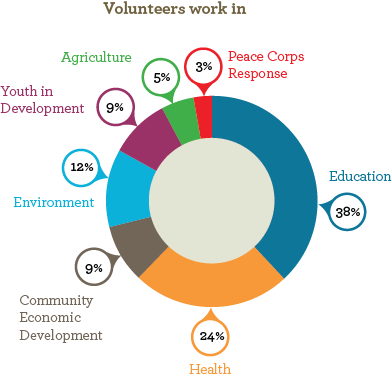 Secondary Projects
Volunteers also may work on a secondary project that they identify and customize based on their experience and their community's need. This project may include working across sectors and leveraging Peace Corps partnerships and grants programs. Secondary projects also support presidential initiatives and partner collaborations to reduce the risk of HIV/AIDS, prevent malaria, provide sustainable food sources, and more.
Learn more about the many types of Volunteer opportunities for making a difference and find the one that is the right fit for you.
Teach lessons that last a lifetime.
Empower the next generation of changemakers.
Serve on the front lines of global health.
Harness 21st-century tools to help communities lift themselves.
Lead grassroots efforts to fight hunger in a changing world.
Help forge a global movement to protect our planet.
Last updated May 03 2016
Media Library
Share your service experience through photos and videos.