Volunteer Openings by Country, Work Area, and Departure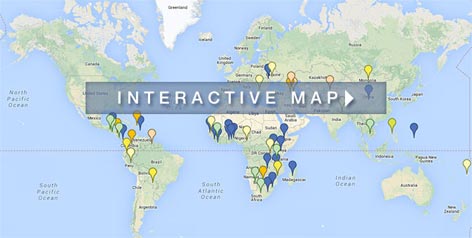 Search Map By:
Map Your Peace Corps Future
Use this interactive tool to find out about Volunteer openings by country, work area, and departure month. The Peace Corps will provide you with world-class training designed to equip you with the skills you need to successfully serve in your host community—wherever it is on the map!
(Actual openings may vary depending on timing, your qualifications and availability.)
Assignments Departing September 2014 – March 2015
View openings as a list

While this information can help guide your decision, your willingness to serve where your skills are needed the most helps us match you with the best opportunity available. Most positions require a bachelor's degree, and medical clearance is required for all assignments.
Helpful Application Hints

Use a recommended browser: For the best experience, use Internet Explorer 6.0 or higher, Google Chrome 12.0 or higher, Firefox 3.0 or higher, or Safari 4.0 or higher. Using the most current version of your selected browser will produce the best results.
Keep your candidate reference number: Once you've created a user profile, you will receive a system-generated e-mail containing your candidate reference number, which you will need to complete the medical process after submitting your application.
Use only one email: Using one email for us to contact you and to create your profile will make your application process easier. We recommend using a permanent email as opposed to your school or work email.
Speaking of email, keep us out of your spam folder: Add peacecorps.gov to your safe sender list to ensure you receive all of your emails.
Check your details carefully: Double check your social security number, your phone number, date of birth, and email address before hitting submit.
Review the Legal Information Page: Learn about the types of documents Peace Corps may need you to upload along with your application.
Have Adobe Reader installed: Many of our letters and forms will now come to you in .pdf format. You will need to have the free Adobe Reader installed to view these documents.
Take the next step today for the leadership experience of a lifetime!
Last updated Jan 30 2014