Martin Luther King, Jr. Day of Service
"Life's most persistent and urgent question is, what are you doing for others?"
Dr. Martin Luther King Jr.
The Martin Luther King Jr. Day of Service is part of United We Serve, the President's national call to service initiative. It calls for Americans from all walks of life to work together to provide solutions to the nation's most pressing problems.
Peace Corps Commemorates National Day of Service, Works Together to Make a Difference (press release)
National Day of Service Fair – January 19, National Mall, Washington, D.C.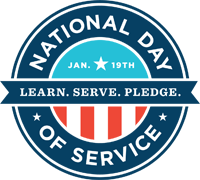 The Peace Corps and approximately 100 charitable and community-service groups will participate in the event. Visit the Peace Corps booth, located near the stage in the health tent.
Last updated May 03 2016