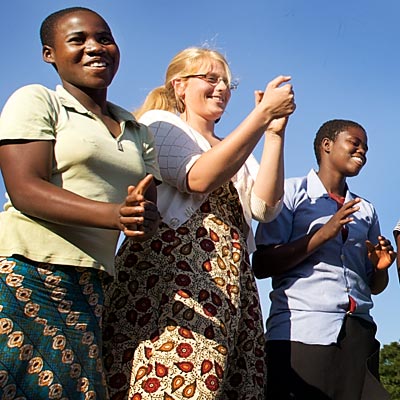 It's never too late to serve as a Peace Corps Volunteer
Older Volunteers offer their host communities a lifetime of experience and knowledge and can make an instant impact during their Peace Corps service. They act as invaluable resources to younger Volunteers, and help meet some of the high-level skills that host countries request. Plus, Peace Corps service is a great way for older Americans to continue their careers in a non-traditional environment.
Listen to a Volunteer talk about his Peace Corps experience in Peru
Older Volunteers come with a lot of advantages: one is life experience."
Greg Plimpton
Volunteer in Peru
Seven percent of Peace Corps Volunteers are over the age of 50.
Start the application process. Create a profile, add to it, and track your progress. Or, request more information.
Application/Departure Estimated Timeline

While applications are accepted on a rolling basis, applicants are most likely to depart for their assignment according to the following timeline:

| Apply by | Depart starting |
| --- | --- |
| August 30, 2013 | April – June 2014 |
| November 29, 2013 | July – September 2014 |

Helpful Application Hints

Use a recommended browser: For the best experience, use Internet Explorer 6.0 or higher, Google Chrome 12.0 or higher, Firefox 3.0 or higher, or Safari 4.0 or higher. Using the most current version of your selected browser will produce the best results.
Keep your candidate reference number: Once you've created a user profile, you will receive a system-generated e-mail containing your candidate reference number, which you will need to complete the medical process after submitting your application.
Use only one email: Using one email for us to contact you and to create your profile will make your application process easier. We recommend using a permanent email as opposed to your school or work email.
Speaking of email, keep us out of your spam folder: Add peacecorps.gov to your safe sender list to ensure you receive all of your emails.
Check your details carefully: Double check your social security number, your phone number, date of birth, and email address before hitting submit.
Review the Legal Information Page: Learn about the types of documents Peace Corps may need you to upload along with your application.
Have Adobe Reader installed: Many of our letters and forms will now come to you in .pdf format. You will need to have the free Adobe Reader installed to view these documents.
Need more information to decide if the Peace Corps is right for you?
Take the next step today for the leadership experience of a lifetime!
Last updated Nov 25 2013