You rock. Everybody wants you. Here's why the Peace Corps should be "the one."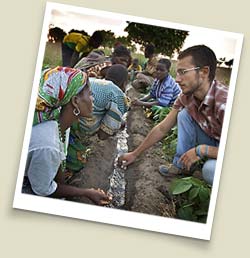 You're an Agriculture or Environment major or enthusiast entering the workforce. You have many options for launching your career. By choosing to be a Peace Corps Volunteer your skills can immediately help an overseas community improve its food security or enhance its limited resources through organic and sustainable practices.
At the heart of it, isn't that why you got into farming
or conservation?
Got Agriculture or Environment education/experience?
We have Volunteer positions available..
Don't have an agriculture or environment background? Learn more about other Peace Corps Volunteer opportunities.
Partial list of openings and requirements.
Agriculture Economics/Farm Management positions require a degree in agriculture economics or agribusiness, or business/economics degree with one year full time hands-on farming/agribusiness.
Applied Agriculture Sciences positions require an agriculture degree or a background in agricultural production on family or commercial farms. Applicants with farm experience have grown fruits and vegetables and understand concepts such as soil fertility and integrated pest management.
Agriculture and Forestry Extension positions require an undergraduate degree with a minimum of three months full time agriculture or forestry experience, such as vegetable gardening or organic farming. Prefer experience or interest in environmental issues, teaching, and tutoring.
Forestry positions require certain environmental degrees paired with an understanding of how natural resources can be managed to sustain people's livelihoods.
Environmental Education positions require an environmental degree paired with a high level of comfort working in the outdoors. Prefer agriculture experience working with schools or businesses.
Last updated May 03 2016