Peace Corps Volunteers
Peace Corps Volunteers make a difference! Their service improves the lives of people in communities around the world, informs the global perspectives of Americans, and is a life-defining experience for Volunteers themselves. Volunteers receive practical benefits, learn new languages, gain leadership and international development experience, and work with their host countries as partners and friends.
Watch Peace Corps' film short, Be a Volunteer, and learn about the unique experience and benefits of service.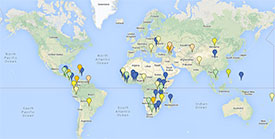 Interactive Map
Use this new, interactive tool to find out information about each assignment, country and departure month to help you plan ahead.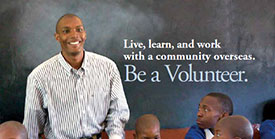 Peace Corps Catalog
Learn all about Peace Corps service and see if it's a good fit for you.
Web Version | 44-page PDF (5mb - updated 2/12)
Live, learn and work with a community overseas.
Be a Volunteer.
Last updated Jan 30 2014