Evan Wolfson
Founder and President, Freedom to Marry
Education Volunteer in Togo, 1978–80
Education:
J.D. from Harvard University
Bachelor's degree in history from Yale University
Evan Wolfson is a civil rights attorney and founder and president of Freedom to Marry, a nonprofit, nonpartisan advocacy organization that works for marriage equality at the national and state levels, as well as to improve public approval of marriage rights for same-sex couples.
Evan Wolfson (PDF)
Current Job Summary:
Lead a nonprofit that works to achieve marriage equality for same-sex couples at state and national levels, as well as to increase public approval of marriage equality.
Notable Project: Taught English at a middle/high school in a small village, as well as taught philosophy and sex education, worked with the drama group, organized a project to build a library study center, and even taught villagers how to plow with cattle.
About his Peace Corps Service:
"Peace Corps definitely shaped my work, and, beyond, my understanding of myself and the importance of fighting to end discrimination based on sexual orientation. My time in the Peace Corps taught me how profound a role one's society plays—how important the opportunities and even language one has to call on can be—in shaping even highly personal aspects of who we are and how we identify. And in turn, it affirmed for me how precious the freedom we have as Americans is, and how we must work to defend, enlarge, and share it."
The Peace Corps was an enormously enriching and important experience for me. I learned the joy of public service. I gained the extraordinary benefit of living in another society, being on my own, and having the chance to really learn from a very different society and group of people at a young age."
What He Gained in the Peace Corps:
Wolfson cites Peace Corps for "deepening my commitment to make a difference, and solidifying my belief that human commonalities, good and bad, transcend ethnic or national categories. It taught me to work with both urgency and patience, and strengthened my belief in others and the possibility of change."
Why Join the Peace Corps:
"From my experience in Togo, I learned that who you are, even in such profound and personal matters as sexual orientation, can be highly influenced and sometimes defined by the choices and language made available to you by your society. I both gave and got a lot during my time in the Peace Corps, and it shaped and enriched my life."
Last updated Jul 09 2014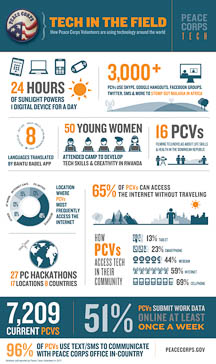 Volunteers around the world apply different technologies to engage with their communities.
Tech in the Field (PDF)
Find Local Events
Peace Corps recruiters appear at information sessions, campus and community events, and career fairs. Pick a state and find a Peace Corps event near you.
Media Library
Share your service experience through photos and videos.