Siiri Morley
Executive director, Prosperity Catalyst; founding partner, Prosperity Candle
Education: B.A. in international studies/anthropology from Kenyon College
M.B.A. in social impact management from The Heller School at Brandeis University
(Lesotho, 2001–04)
Siiri Morley trains women in Haiti, and other conflict areas, to be candle-makers so they can start their own businesses and improve their incomes.
Siiri Morley (PDF)
Siiri Morley, executive director of Prosperity Catalyst, launched a program in Haiti that provides direct support, mentorship, and training to women as they start candle-making businesses. Prosperity Candle provides market access for the women it works with in distressed parts of the world. Through candle-making, women can earn above living wage incomes, tap into local and global markets, and have flexible work that allows them to juggle multiple priorities in their lives.
Morley served as a Community Economic Development Volunteer in Lesotho, where she worked with a womenís weaving business called Elelloang Basali (Be Aware Women) Weavers for three years, and with the Lesotho Women's Mohair Export Association, providing them with training in product development, marketing, and export preparation.
About her Peace Corps service:
"After my first year in the Peace Corps, I realized that every time I did something for someone rather than with someone, I was doing them a disservice. Stay focused on building capacity and training people, rather than just getting things done for them."
The best work is done in the Peace Corps when volunteers truly embrace where they live and work and develop deep respect and trust with their community. Get out of your comfort zone and dive in fully! It will be worth it in the long run, no matter how uncomfortable it feels in the short-term."
What she gained in the Peace Corps:
"Being in the Peace Corps was one of the best things I could have done to prepare for becoming an entrepreneur, especially a social entrepreneur. Successful Volunteers are, in many ways, entrepreneurs: You learn how to do a lot with few resources, how to jump into a vague situation and create change, how to recognize opportunities, and how to build something out of nothing. I learned firsthand how powerful business can be in creating social change for women. Now, I am constantly thinking back to my Peace Corps experience for lessons learned. I gained empathy, the ability to connect with people from all around the worldódifferent cultures, different languageóand the ability to be flexible and innovative my approach to achieving a goal."
Why join the Peace Corps:
"If someone is interested in a career overseas or with any tie to the international community, being a Volunteer is a great way to gain firsthand experience and street cred. When I meet another Peace Corps Volunteer, I immediately know that they are someone who will be entrepreneurial, flexible, and low-maintenance. To stand out post-Peace Corps, make sure you really make something of your time in the Peace Corps. Leaving with tangible outcomes and impact that you can share makes your experience much more compelling."
Last updated Jul 09 2014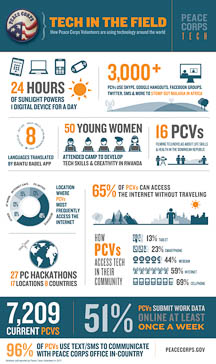 Volunteers around the world apply different technologies to engage with their communities.
Tech in the Field (PDF)
Find Local Events
Peace Corps recruiters appear at information sessions, campus and community events, and career fairs. Pick a state and find a Peace Corps event near you.
Media Library
Share your service experience through photos and videos.