Joseph Green
Co-founder of Kwai, an eco-friendly single-use tableware producer
Education: Bachelor's degree in biology from Grinnell College, Master of Public Policy from University of Michigan
(Nepal, 2000–02)
After his service, Peace Corps Volunteer Joe Green visits his host family in Nepal.
Joseph Green (PDF)
After his service in Nepal, Joe founded a company that makes plates and bowls from fallen areca palm fronds—steam pressed without adhesives or additives—that are sturdier than paper, natural, and 100 percent compostable. Kwai—the name of the areca palm tree in the Khasi language—supplied plates for the TED2012 Conference and will supply another 10,000 for TED2013 and TEDActive2013.
About his Peace Corps service:
"I worked with another volunteer to teach local carpenters to convert common household wood stoves into smokeless stoves. It is a good income generator for the carpenters, and significantly reduced the amount of smoke in the households that paid the carpenters for the conversion. When I finished my Peace Corps service a few months later, the carpenters had already built more than 200 smokeless cookstoves."
"In my first year, my patience kept me going as I grew to understand that what I thought was racism was actually ignorance and lack of exposure to African Americans. I realized how instrumental I could be in reshaping their understanding of what it means to be a black American. We would often joke that if you could survive two years as a Peace Corps Volunteer, you must have gained a hell of a lot of patience. So, as much patience as I thought I had coming into my service, I definitely left with far more. Also, we need to realize that we have a lot to learn from people in developing countries."
As a Volunteer, you need to be able to enjoy trying something new at every fork in the road. Also, we need to realize that we have a lot to learn from people in developing countries.
About his current work:
"I partner with small-scale manufacturers in India to produce our palm-leaf plates. Because they live and work in rural areas near the palm groves, I often stay in their houses for days at a time. Similar to my experience in Nepal, our producers are at least as motivated by our personal relationships as they are by any financial incentives. My Peace Corps experience has helped me quickly recognize and foster the social aspects of my business. I also gained better adaptability and self-confidence, and became more outgoing."
What he learned in the Peace Corps:
"As a Volunteer, I discovered that businesses play an important role in the Nepalese economy, even though three out of every four Nepalese are subsistence farmers. I left Nepal seeking a better understanding of economics and business, both studying in graduate school and working in those fields. And now I have returned to the South Asian region to start my own business that partners with areca palm farmers."
Last updated Jul 09 2014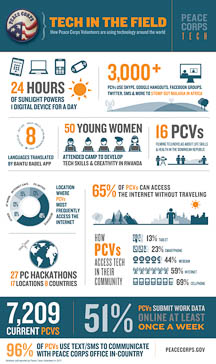 Volunteers around the world apply different technologies to engage with their communities.
Tech in the Field (PDF)
Find Local Events
Peace Corps recruiters appear at information sessions, campus and community events, and career fairs. Pick a state and find a Peace Corps event near you.
Media Library
Share your service experience through photos and videos.