Inspiring Careers
Today's Peace Corps is creating a new generation of leaders that will make America stronger at home and across the globe. Meet some of the Returned Peace Corps Volunteers who credit their Peace Corps experience with helping them develop the skills, resolve and ingenuity to chart their own course and inspire change.
Spotlight on Returned Peace Corps Volunteers:
Last updated Jul 09 2014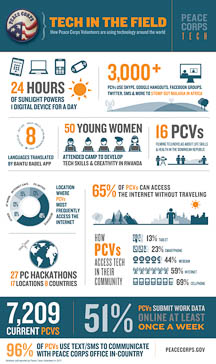 Volunteers around the world apply different technologies to engage with their communities.
Tech in the Field (PDF)
Find Local Events
Peace Corps recruiters appear at information sessions, campus and community events, and career fairs. Pick a state and find a Peace Corps event near you.
Media Library
Share your service experience through photos and videos.