Innovation in the Field
Cameroon
Peace Corps Volunteer Christian Freymeyer is working with his local community in Cameroon to refurbish a high school computer lab and boost its energy supply so more students can participate in computer lessons.
This project aims to prepare students for their future, and computer literary is becoming more and more essential.
Technology breeds innovation; however, in this rural high school in Cameroon, students are unable to receive adequate instruction in computer science due to the lack of basic infrastructure," said Freymeyer. "This community is forward-thinking and members understand that computer literacy is crucial to this generation's success. This project aims to prepare students for their future, and computer literary is becoming more and more essential."
Dominican Republic
Sixteen Peace Corps Volunteers in the Dominican Republic are using innovative methods to teach life skills and HIV/AIDS prevention and awareness. The Volunteers are working with community members to produce and film a telenovela (soap opera) entitled, Me Toca a Mi (It's my turn) with more than 25 local youth that will be used in classrooms, educational centers, and youth clubs throughout the country.
Working on a non-traditional project like this is interesting because we are able to reach different levels of Dominican youth," said David Richie, executive director and an informational technology volunteer. "The youth working directly in the filming and production are learning about opportunities and jobs in a creative sector they otherwise would never have access to. Also, the telenovela is a way for the messages and lessons in each episode to reach a much broader community of Dominicans."
Tanzania
Peace Corps Volunteer Elizabeth Crompton recently led a seminar with local faculty in Tanzania to teach university students and interested community members to use a free open-source operating system. The idea behind the seminar was to teach community members to become comfortable navigating any type of computerized system rather than relying on memorization.
I want my students to become comfortable with not having all the answers and looking for what they need," Crompton said. "The kind of thinking that programming and computing teaches encourages self-reliance and problem-solving. Having computer skills in Tanzania makes one much more likely to get a job."
The seminar was so successful that Crompton's students have established an online community to answer questions for others learning to navigate the operating system. Additionally, students involved in the online community have been working together to write their own programs.
Ukraine
Peace Corps volunteer Lawrence Gipson is working with his community in Ukraine to improve access to technology and increase the quality of English education at a local school. Through the Peace Corps Partnership Program (PCPP), Gipson raised money to purchase a projector, projector canvas, five laptops, and 10 sets of headphones for his students.
Gipson raised money to purchase a projector, projector canvas, five laptops, and 10 sets of headphones for his students.
The merit of this project lies primarily in the fact that it will expand access to information technology as a teaching tool in a community that wants to improve its English teaching capacity," Gipson said. "Through this project, we can teach creative and imaginative lessons in which students will have access to PowerPoint, videos, interactive games, and laptops to complete their assignments."
Rwanda
Peace Corps volunteers in Rwanda, led by Lyla Fujiwara, recently organized an information and communications technology camp to teach female secondary school students computer skills that will advance their confidence and economic opportunities.
The purpose of Camp TechKobwa was to provide the students with unhindered access to computers to develop skills and creativity in using technology, as well as to inspire them as the next generation of Rwandan technology entrepreneurs," Fujiwara said.
The camp included 10 core lessons and two panel discussions, as well as sports, crafts and games. Classes taught the students how to set up an email account and basic programming and blogging, and panel discussions featured Rwandan women who spoke about women in the media and women in technology.
Last updated Jul 09 2014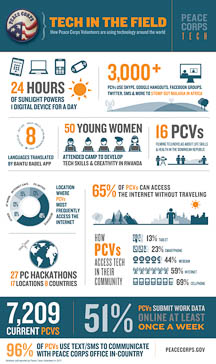 Volunteers around the world apply different technologies to engage with their communities.
Tech in the Field (PDF)
Invest in Your World
Donate to a Volunteer's community project today! The Peace Corps Partnership Program applies 100% of your tax-deductible donation toward a specific Project, Special Fund or Country Fund.
Learn More
Media Library
Share your service experience through photos and videos.