Innovation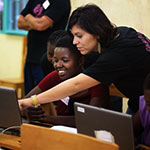 The Peace Corps embraces change, seeking new and better ways to make a difference. From the ingenuity our Volunteers demonstrate in the field, to engaging the public to share technology expertise, to improving the way we operate every day, the Peace Corps is continuously evolving to reflect the world around us.
I want us to ask ourselves every day, how are we using technology to make a real difference in people's lives." President Barack Obama
Technology: Worldwide collaborations such as the Peace Corps Innovation Challenge leverage hack-a-thons to develop new technology-based solutions to day-to-day challenges in some of the remote areas of the world.
Here's how it works. (Video)
Ingenuity: Volunteers are using their talents and embracing change with profound effects in their host countries.
Learn about their innovation in the field.
Last updated Jul 09 2014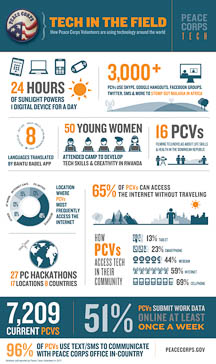 Volunteers around the world apply different technologies to engage with their communities.
Tech in the Field (PDF)
Invest in Your World
Donate to a Volunteer's community project today! The Peace Corps Partnership Program applies 100% of your tax-deductible donation toward a specific Project, Special Fund or Country Fund.
Learn More
Media Library
Share your service experience through photos and videos.