Earth Day
Peace Corps Volunteers think global and act local in communities around the world every day. They become leaders in grassroots efforts to protect and preserve the environment in the countries in which they serve, engaging in projects such as establishing forest conservation plans, helping develop alternatives to wood as a fuel source, and collaborating with various organizations to promote environmental awareness. They strengthen communities' understanding of environmental issues, providing people with the knowledge to develop their own programs and make their own choices about how best to protect and preserve the local environment.
10 Grassroot Ways
Peace Corps Volunteers Make Everyday Earthday
(graphics for social media and websites)
Learn what it takes to be an environmental Peace Corps Volunteer
In addition to the great work of Environment Volunteers, Volunteers in other sectors incorporate environmental awareness into their classroom activities, secondary projects, and more.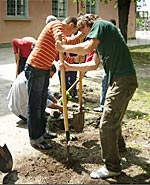 Environment Projects
In celebration of Earth Month and Earth Day, explore projects from Peace Corps Volunteers around the world. From community cleanup in Bulgaria to building stoves in Panama, Volunteers are finding innovative and creative ways to promote sustainable environmental responsibility in the communities they serve.
Explore current Peace Corps environment projects
Help fund a new one
Earth Day Resources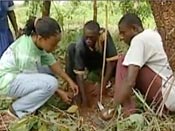 Peace Corps YouTube Environment Playlist
Get first-hand accounts of what it's like to be a Peace Corps Volunteer working on environment and agriculture issues. See the variety of projects Volunteers implement in their communities and the sustainable impact of their work.
Watch Peace Corps environment videos on YouTube
Peace Corps Environment Flickr Photostream
From Earth Day celebrations in Bulgaria to reef preservation in Fiji to tree planting in Ghana, take a peek at the environment work Volunteers do.
View Peace Corps environment photos on Flickr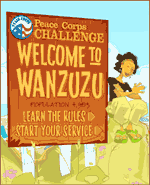 Welcome to Wanzuzu
Giwafa, the mayor of Wanzuzu, and Narina request your service to help them tackle the environmental issues of their village. So, roll up your sleeves, join the fun, and Take the Peace Corps Challenge !
In this interactive game you will explore issues such as soil runoff, agroforestry, and water contamination and learn the everyday challenges Peace Corps Volunteers face to make sustainable changes in their communities.
Last updated Jul 09 2014