Global Influence
Working Together to Make a Difference
Through Presidential Initiatives and partner collaborations including non-governmental organizations, host country governments, and local community members, the Peace Corps' work on the front line is turning the world's challenges into shared triumphs.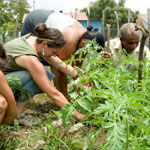 Food Security
Feed the Future is the U.S. government's global hunger and food security initiative that leverages the strengths and resources of 10 federal departments and agencies. The Peace Corps plays a unique role in this presidential initiative by taking important food security messaging and practices to the grassroots level. Partnering with U.S. Agency for International Development (USAID), Peace Corps Volunteers are making sustainable changes to how local people cultivate their food, address water shortages, and feed their families.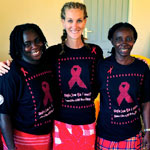 HIV/AIDS Risk Reduction
One of the most serious worldwide threats to public health and development is the spread of HIV/AIDS. The Peace Corps is a key partner and implementer of the President's Emergency Plan for AIDS Relief (PEPFAR), which provides assistance to countries most affected by the HIV/AIDS pandemic. Currently, the Peace Corps trains all Volunteers who serve in Africa, the Caribbean, Eastern Europe, and Central Asia to be advocates and educators of HIV/AIDS prevention and care.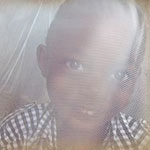 Malaria Prevention
Peace Corps' Stomp Out Malaria in Africa initiative mobilizes more than 3,000 Peace Corps Volunteers across the continent to make lasting impacts in malaria treatment and prevention. Partnering with Malaria No More, specially trained Peace Corps volunteers and staff are proud to be part of the international team to end malaria.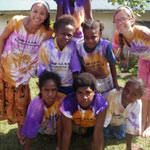 Equality
Worldwide, Peace Corps Volunteers regularly engage in activities to identify barriers to gender equality and empower women, men and youth to think beyond traditional gender roles and encourage self confidence. Volunteers also organize Camp GLOW (Girls Leading Our World) or similar camps that help promote gender equality and empower young women by creating a safe and supportive environment for cultural exchange, individuality, creativity, leadership development and fun. Since 1995, volunteers in 60 countries have established GLOW camps to promote the empowerment of women.
Last updated Jul 09 2014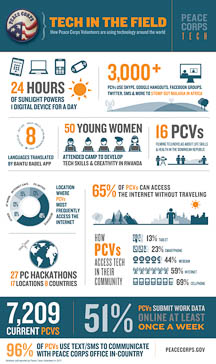 Volunteers around the world apply different technologies to engage with their communities.
Tech in the Field (PDF)
Invest in Your World
Donate to a Volunteer's community project today! The Peace Corps Partnership Program applies 100% of your tax-deductible donation toward a specific Project, Special Fund or Country Fund.
Learn More
Media Library
Share your service experience through photos and videos.