Third Goal Spotlight
Back to School Edition
The Peace Corps' new Office of Third Goal and Returned Volunteer Services is excited to share some of the many interesting ways Peace Corps Volunteers, Returned Peace Corps Volunteers (RPCVs), and families of Volunteers educate Americans about the cultures and people of other countries.
Enjoy our current Third Goal features, and see below for how you can share your own experiences!
Featured Photo – Off to School!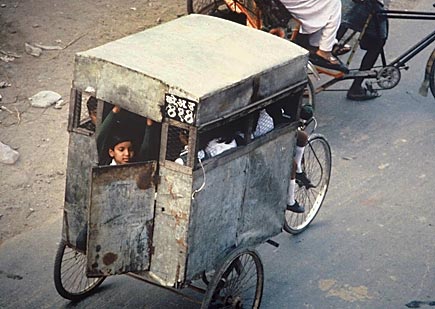 Privileged private school children ride in the Nepalese version of a school bus. Returned Volunteer Sandra Voge took this picture in the large city of Biratnagar, Nepal in 1992. This photo can also be found in the Peace Corps Digital Library.
Featured RPCV Group – Returned Peace Corps Volunteers of Washington, DC
RPCV/W has collaborated with Language ETC to teach introductory language lessons to teachers of different languages, so the teachers can experience the learning environment of a new student. According to the RPCV/W website, "If you have not used your Arabic, Bulgarian, French, Russian, etc. in a while, this is the perfect opportunity to brush up and help RPCV/W's partner Language ETC.".
Find RPCV groups in your area by visiting the National Peace Corps Association's member groups page.
Featured Podcast – Lessons Learned While Drumming
In this episode of Chance Dorland's Peace Corps PodCast, Chance talks about a cultural exchange that took place when he set out to teach drum lessons at his local school. Chance Dorland is a current Volunteer in Colombia.
Featured Story – "Crossing Borders within Borders"
Recently returned Volunteer Nathaniel Broekman tells the story of what happened when Bulgarian high school students became assistant teachers in a Turkish elementary school, attempting to bridge a harsh cultural divide.
One day, when asked by my students,: "Teacher, do you know Turkish?" I answered "ama, biraz türkçe konuşabiliyorum" – "Well, I can speak a little bit of turkish." The response was a stunned pause, followed by wails of joy and applause. Respect is a powerful unifier – and a lack of respect, just as powerful a divider. It was this lack of respect, the antiziganizm, the misunderstanding, the hatred, that I feared would make my imagined exchange impossible.
Find out whether Nathaniel's exchange succeeded by reading his story.
Third Goal Idea of the Month – Classroom Music Exchange
"Before leaving [for Peace Corps service], we contacted my former school about participating in World Wise Schools. We decided to set up a pen-pal program (officially called a Correspondence Club) between my English classes in Benin and the middle school French classes in Tennessee. During the two years, the students exchanged many letters, pictures, and videos on selected topics, such as family life, food, school schedules, and holidays.

Upon returning to the US, the school invited us to speak to the students who had participated in the program. It was a really fun event because these students were already familiar with life in Benin, but it gave them an opportunity to ask specific questions about certain aspects of life that interested them or something they didn't understand from some of the letters. We brought in many items, such as clothes, voodoo figures, and food products for them to pass around and give them a chance to see things they had read about. It was a great way to make their two year letter exchange more real!"

Miranna and Charlie Darr
RPCVs Benin 2009–2011
Tell us how YOU further the Third Goal
Submit your photos, stories, videos, Third Goal ideas and RPCV group activities.
Photos and stories are submitted through our Digital Library. Videos, Third Goal ideas and RPCV groups are submitted by email. (Videos must be on YouTube and may not contain any copyrighted material.)
Submission Guidelines

The Office of Third Goal and Returned Volunteer Services is proud to consider submissions for the Third Goal Spotlight. Submissions must:

Focus either on the culture and lifestyle of a country where Peace Corps Volunteers serve or have served, or on a unique way of sharing world cultures with Americans:
Be succinct and well-edited:
Be sensitive to the privacy concerns of individuals, including host country nationals;
Not include inflammatory, rude or offensive language or content;
Not be used to promote products or services;
Not include any personal identifying information such as Social Security numbers, phone numbers, email addresses or street addresses.

We value every submission received, and are constantly amazed at all of the wonderful ways in which Peace Corps' Third Goal is furthered by educating Americans about the cultures and people of the world. Please understand that due to the focused natured of the Third Goal Spotlight section, we are not able to feature every submission we receive.
Find out more about the Peace Corps' Third Goal
Last updated Jan 22 2014
Register Your Participation
Help the Peace Corps demonstrate the impact of the Third Goal.
Registrants will receive a FREE Third Goal Kit to supplement your event or activity.
Contact Us
For more information about Third Goal activities, please contact:
Peace Corps Office of Third Goal and Returned Volunteer Services
1111 20th St. NW
Washington, DC 20526
thirdgoal@peacecorps.gov