Third Goal PowerPoint
A customizable tool to help you bring the world home
We are happy to provide this PowerPoint template to help you bring other cultures to life for U.S. students, teachers, and community members. This resource can be used in a variety of ways:
As Is – After the two general Peace Corps overview slides, each slide includes a photo featuring cultural aspects of countries where Peace Corps Volunteers serve. Therefore, if you would like to expose your audience to a variety of traditions from around the world, you may use any or all of the slides just as they are.
As a Customizable Template – You can easily include your own pictures while keeping the visual style of the presentation. Use as many or as few of the Third Goal category slides as you want (Dance, Dress, Food, etc.), and drop in a photo of your own for each category. Note that since the first two slides consist of general information about Peace Corps, they are not set up with replaceable pictures. If you would like help inserting your photos behind the text and tan border, here are detailed directions, for use with PowerPoint 2007 and more recent versions. Note that since the first two slides consist of general information about Peace Corps, they are not set up to replace the pictures.
Detailed Directions

1.

Open the PowerPoint presentation and save it on your computer.

2.

Select the slide (on the left) where you want to replace the photo.

3.

In the Insert tab (second from the left), select "Picture," choose the photo you want to include, and click OK.

4.

Click and hold the mouse to drag the photo around and center it. (Note – to change the size of the photo without changing the proportions, hold down the Shift key while clicking/dragging the corner of the photo.)

5.

Right click on your photo, hover the cursor over "Send to Back, "and left click "Send Backward" (2nd option). This moves your photo behind the text.

6.

Repeat step 5 once more. This moves your photo behind the tan border.

7.

Change the title if you wish, by clicking inside the text box containing the title and typing your new title.

8.

You can easily delete any slides you don't want to include in your presentation by right-clicking the small image of the slide which appears on the left-hand side of the screen.
As a Guide – Feel free to draw inspiration from the photos and category titles in this presentation, and use these ideas to create your own presentation using your own photos and visual style.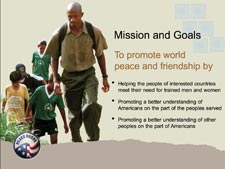 (17.4 mb)
Last updated Jan 22 2014
Register Your Participation
Help the Peace Corps demonstrate the impact of the Third Goal.
Registrants will receive a FREE Third Goal Kit to supplement your event or activity.
Contact Us
For more information about Third Goal activities, please contact:
Peace Corps Office of Third Goal and Returned Volunteer Services
1111 20th St. NW
Washington, DC 20526
thirdgoal@peacecorps.gov