Video Challenge
Cultural Windows: What I wish Americans knew about my Peace Corps country.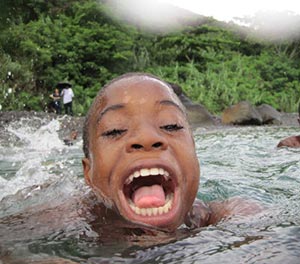 Peace Corps Volunteers gain more perspective, cultural insight, and community connections from their service than most people gain in a lifetime. Answering the Peace Corps Week 2014 Video Challenge, nearly 80 current and returned Volunteers shared their unique perspectives through videos that depict "Cultural Windows: What I Wish Americans Knew about My Peace Corps Country."
Congratulations to David Malana, a Peace Corps Volunteer in Kyrgyzstan, whose " Kyrgyzstan is Me " video was selected as the winning video! His was selected based on its ability to increase cross-cultural understanding, the cultural richness of the video, and the quality of the video production. As winner of the competition, he will receive an iPad to help him as he continues to share his country of service with the world.
While there can only be one winner, there were many impressive videos submitted, and we are grateful to all who took the time to participate. Of nearly 80 submitted videos, 25 videos advanced to the judging round based on the number of views they received. Special recognition is awarded to the following:
Thanks to all of you who helped advance Peace Corps' Third Goal and helped Americans better understand your countries of service.
And remember: Your video production days don't have to end with Peace Corps Week! Please send other videos that you are interested in sharing with us to thirdgoal@peacecorps.gov . We love seeing your creative work and learning about your Peace Corps experiences.
View all of the qualifying submitted videos on Peace Corps' #PCWeek2014 YouTube playlist .
Last updated Oct 08 2014