Franklin H. Williams Award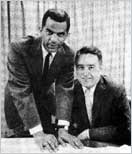 Ambassador Franklin H. Williams with former Peace Corps Director Sargent Shriver.
The Franklin H. Williams Award recognizes ethnically diverse returned Peace Corps Volunteers who exemplify a commitment to community service and Peace Corps' Third Goal of promoting a better understanding of other peoples on the part of Americans.
Franklin H. Williams was an early architect of the Peace Corps. He worked at the agency from its inception in 1961 to 1963 and helped Sargent Shriver—the first Peace Corps Director—promote the agency and its programs to the world. Ambassador Williams' exceptional public service career included positions as the Peace Corps Regional Director for Africa, the U.S. representative to the United Nations Economic and Social Council, and the U.S. Ambassador to Ghana.
2014 Franklin H. Williams Awards Ceremony
Director's Award
Jo Ann Jenkins

This award goes to AARP CEO Jo Ann Jenkins for her continued support of the Peace Corps mission and her steadfast commitment to the cause of peace and civic involvement. As CEO of AARP, Jenkins oversees the world's largest nonprofit, nonpartisan membership organization dedicated to social change and helping people 50 and over improve the quality of their lives. In 2011, the Peace Corps and AARP announced a partnership to connect older people with more service opportunities in the United States and abroad. Currently, about 8 percent of Peace Corps volunteers are age 50 and over, and they bring a wealth of life skills and professional experiences to their service that allow them to make an instant impact in communities around the world.
Franklin H. Williams Award Winners
Northeast Region

Ferney Giraldo (Guatemala, 2008–2010)

Originally from Colombia, Ferney Giraldo has spent over 10 years working in youth and family advocacy and community outreach, both in the U.S. and abroad.

From 2008–10, Giraldo served as a Youth and Community Development Volunteer in Guatemala. He worked closely with the local Mayan K'iche community, facilitating life skills education and HIV/AIDS awareness workshops for students, teachers, and community leaders. With the help of a local cooperative, Giraldo also initiated a summer sports and skill-building camp for Mayan youth. Additionally, he worked with the Ministry of Education to implement youth leadership retreats and design life-skills curricula.

Giraldo continues to work in youth development, now for the Human Resources Department of the Wildlife Conservation Society in the Bronx. Here, he is involved with the Future Leaders and the Future Conservationists programs, mentoring and teaching underserved Bronx youth in work readiness, life skills, college preparation, and international service learning.

Giraldo has connected his students with returned Peace Corps Volunteers, to share their experiences, and with students in Cameroon through the World Wise Schools initiative. Giraldo is a recipient of a Paul D. Coverdell Fellowship at The New School's graduate program in international affairs, with an anticipated graduation in fall 2014.

Mid-Atlantic Region

Gertrude Perry Anderson (Morocco, 1987–1989)

Gertrude "Trudy" Anderson has been a lifelong enthusiast for human rights. Born in Canada, she came to the U.S. for college and received degrees in French and education, then taught French for 25 years.

In 1987, Anderson went to Morocco to serve as a university English as a Second Language professor with the Peace Corps, which kicked off another two decades of service to her community and nation. For over 35 years, Anderson has served as a volunteeractivist and investor in The Hunger Project, visiting multiple countries as a global investor. Anderson's service includes working with Habitat for Humanity, Holt International Children's Services, Mobility International USA, and the International Women's Club of New England. Anderson also served as the vice president of the Eugene, Oregon, chapter of UNIFEM—the United Nations Development Fund for Women—and attended the Fourth World Conference on Women in Beijing in 1995.

Anderson also served as an ambassador for the global women's volunteer organization Soroptimist. There, she undertook a 65-city worldwide tour, which provided a platform to speak about her Peace Corps experience. She continues to promote Peace Corps service in all of her interactions as a volunteer, mother, and dancer.

Southeast Region

Hugh Williams (Sierra Leone, 1974–1976)

Hugh Williams is a career member of the Senior Foreign Service with the personal rank of minister counselor. He has held numerous assignments overseas and domestically. During his distinguished service, he has received Meritorious Honor awards and the Department's Superior Honor award. He has a wealth of experience at U.S. diplomatic missions abroad as a consular officer in Hong Kong, Canada, Malaysia, India, Indonesia, Belgium, and Jamaica.

Williams also held a variety of positions domestically in the Bureau of Human Resources, including his current assignment as diplomat in residence at Spelman College and Morehouse College, and earlier as diplomat in residence at Florida A&M University. At Morehouse he designed and teaches a course entitled "Pathways to Diplomacy and Global Leadership." Prior to joining the Foreign Service, Williams served in the Peace Corps in Sierra Leone.

Williams taught math in public schools and at his alma mater, Delaware State University. He earned graduate degrees from Texas Southern University and from the Air War College. He is a member of the Omega Psi Phi fraternity, an ordained deacon, and served as vice president of the Thursday Luncheon Group, the oldest affinity organization in the State Department.

Midwest Region

Manuel Colón (Paraguay, 2010–2012)

Manuel Colón served as an Environmental Education Volunteer in Areguá, Paraguay, from 2010–12. During his service, Colón led efforts to establish a national curriculum with Volunteers from the entire Environment sector, which promotes environmental youth groups centered around civic and community engagement. Colón was also a leader in Jopara, the Volunteer-led diversity committee, which helped to facilitate the first-ever lesbian, gay, bisexual, and transgender ally training with Volunteers and staff in Paraguay.

After service, Colón returned to his alma mater, the University of Illinois at Urbana-Champaign, to work as an undergraduate recruiter for the Department of Natural Resources and Environmental Sciences.

Colón currently serves as the new Volunteer coordinator for the Lesbian, Gay, Bisexual, and Transgender Returned Peace Corps Volunteer Association, providing liaison among prospective Volunteers, current Volunteers, and returned Volunteers. Additionally, he is the campus representative for the University of Illinois Latina/Latino Alumni Association, serving as the official representative for IllinoisLLAA during on-campus engagements through strategic partnerships with university stakeholders.

Southwest Region

Emily Ellison (China, 2009–2011)

Emily Ellison is a member of the Navajo Tribe from New Mexico, within the Navajo Nation's communities of Manuelito and Chichiltah. She served in Peace Corps/China from 2009–12 as an Education Volunteer, and continued to work in Chengdu as an English instructor at Sichuan University for two years after her service. Ellison now is in management training at Enterprise Rent-A-Car and a board member of the Uplift Community School, a K-8 charter school. She was recently a runner-up in the Navajo Nation tribal delegate election, and plans to run again in 2018.

The death of Ellison's sister in 2008 inspired her to apply to the Peace Corps to pursue her dream of international travel and service. When she faced challenges in her service, the words of her family kept her going: "Go out there and see the world. Be our eyes." She continues to fulfill the Peace Corps Third Goal of promoting cultural understanding in her local community, drawing on her experiences with Tibetans and other ethnic minorities in China who face cultural and economic marginalization just as the Navajo people have.

Ellison graduated from New Mexico State University, Las Cruces with a B.B.A. in finance, where she was also crowned Miss Native America 2004–05.

West Coast Region

Alexandra Escobar (China, 2012–2013)

Alexandra Escobar served as an Education Volunteer in China from 2012–13. While there, she taught English at Liupanshui Normal College in Guizhou province. Following her Peace Corps service, Escobar worked to revamp Roar Into College, a website she co-founded as a student at Loyola Marymount University. The website motivates students to apply to college and was launched with seed funding from a supporter of the Latino Leadership Initiative, a leadership program she participated in at the Harvard Kennedy School of Government in June 2010.

Escobar currently works as an academic achievement coach at Long Beach City College, where she helps first-year students acclimate to college. She is a member of Leadership Long Beach, a network of community leaders, and volunteers with Girls on the Run, an afterschool running empowerment program for girls. Additionally, Escobar works closely with a recruiter in the Los Angeles Regional Peace Corps Office to recruit Volunteers and bring Third Goal events to the area. She is currently applying to graduate programs in public policy and business.
Last updated Dec 03 2015
NPCA
Connect with this non-profit that advocates for the Peace Corps community in bringing the world home.
NPCA
Media Library
Share your service experience through photos and videos.