Franklin H. Williams Award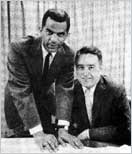 Ambassador Franklin H. Williams with former Peace Corps Director Sargent Shriver.
The Franklin H. Williams Award recognizes ethnically diverse returned Peace Corps Volunteers who exemplify a commitment to community service and Peace Corps' Third Goal of promoting a better understanding of other peoples on the part of Americans.
Franklin H. Williams was an early architect of the Peace Corps. He worked at the agency from its inception in 1961 to 1963 and helped Sargent Shriver—the first Peace Corps Director—promote the agency and its programs to the world. Ambassador Williams' exceptional public service career included positions as the Peace Corps Regional Director for Africa, the U.S. representative to the United Nations Economic and Social Council, and the U.S. Ambassador to Ghana.
2012 Franklin H. Williams Awards Ceremony
September 20, 2012.
Director's Award
Fred Ochieng', M.D. and Milton Ochieng', M.D.

Milton and Fred Ochieng' grew up in the rural village of Lwala, Kenya. Because of their academic promise, Milton and Fred won scholarships to Dartmouth College and Vanderbilt University School of Medicine. Sadly, while in the U.S., they lost both parents to AIDS. Milton and Fred took this as a call to action to build their home village's first health clinic in 2007. In 2011, the health center expanded to become the Lwala Community Hospital, which now provides more than 22,000 patient visits a year.

Milton and Fred are the subjects of the film "Sons of Lwala" and have been featured on various media outlets including Diversity Matters, webtalk radio, ReachMD, NPR, and CNN. In 2009, they received Dartmouth's Martin Luther King Social Justice Award for Emerging Leadership and, in the same week, were recognized as the ABC World News "Persons of the Week." Milton and Fred were named the 2009 JBC Trailblazers in Diversity, becoming the youngest to be honored in the history of the award. Their work was also recognized through a complimentary invitation to join the Clinton Global Initiative in 2009 and again in 2011.

Currently, Milton is in a post-residency fellowship in gastroenterology at Brown University while Fred is a medicine and pediatrics resident at Vanderbilt University Medical Center. In their spare time, Milton and Fred continue fundraising through the organization they founded, the Lwala Community Alliance, a non-profit development agency that has programs in health care, education, economic development, and public health outreach.
Outstanding Individuals Honored for their Community Service:
Atlanta

Leslie Jean-Pierre (Guinea, 1994–1996)

Leslie Jean-Pierre served as a community development and public health education Volunteer in Guinea from 1994–1996. Following his service he worked as a Peace Corps recruiter for five years with the New York Regional Peace Corps Office. In 2001 he cofounded the Minority Peace Corps Association and he remains an active board member. Leslie is the founder and chair of Little Black Village which is a nonprofit organization that promotes higher education, personal development, and international exposure for African American youth. In 2011 Leslie cofounded the Southern Association of Black Peace Corps Volunteers. This RPCV group has hosted many Peace Corps events with the participation of Peace Corps applicants, RPCVs, RPCV and applicant parents and Peace Corps staff.

Boston

Jonathan Santiago (Dominican Republic, 2006–2008)

Jon Santiago served as a community health Volunteer from 2006–2008 in the Dominican Republic. His work included HIV prevention, youth group initiatives, and sanitation projects in Haitian migrant communities. Santiago's passion for public service and interest in healthcare led him to spend an additional three years abroad studying and working in underserved communities from Africa to France. He is currently a medical student at Yale University School of Medicine. Outside of school, Jon spends his time volunteering at a local clinic, conducting health disparities research, and working on youth educational initiatives. Additionally, he remains involved in grassroots politics and hopes to continue his public service interests as a physician in his hometown of Boston, Massachusetts

Chicago

Rollin Johnson, Jr. (Nepal & Burkina Faso, 2003–2005)

Rollin Johnson, Jr. served as a business development Volunteer in Nepal & Burkina Faso from 2003–2005. During his service, Rollin advised microfinance institutions, non-profit organizations, and fair-trade operations. After completing his service, he returned to the U.S. and began community development & servicelearning work as an AmeriCorps *VISTA member. Johnson has worked closely with Peace Corps' Chicago and University of Michigan recruiting offices to help support recruitment efforts.

Rollin currently serves as the Director of Community Partnerships at the University of Michigan's Ginsberg Center for Community Service and Learning, which focuses on service and enhancing civic engagement. Rollin works to develop mutually beneficial partnerships between university stakeholders and community organizations.

Dallas

Mrs. Rodney Davis-Gilbert (Micronesia, 1989–1991)

Mrs. Rodney Davis-Gilbert served as an education Volunteer for the Island of Pohnpei in Micronesia from 1989–1991. Davis-Gilbert continues to fulfill Peace Corps' third goal through her partnership with World Wise Schools and the Dealey Middle School International Academy. In addition, she recently completed a Peace Corps documentary which is archived in the John F. Kennedy Museum at Dealey Plaza. She is a trained World Affairs Council liaison and Model UN coordinator for her campus.

She is the wife of Lamar Kimble Gilbert, and the proud mother of three beautiful daughters, Alexandria ñ age 15, Victoria – age 13, and Elizabeth – age 11. All of her daughters are accomplished tennis players.

Los Angeles

Seth Pickens (Haiti, 2001–2003)

Rev. Seth Watson Pickens served as a business development Volunteer in the Republic of Haiti from 2001–2003. His assignment involved curating and selling Haitian handicrafts locally and globally.

Currently he serves as the seventh Senior Pastor of Zion Hill Baptist Church in Los Angeles, a congregation that has worshipped and worked in the city for nearly a century. Since he was elected pastor in 2009, the congregation has grown significantly as a beloved community that thrives on true spiritual development and community service.

A graduate of Morehouse College, Seth also holds a Master of Divinity from Union Theological Seminary in New York City; he is currently working toward a Doctorate of Education at the University of Southern California.

New York

Richard Lopez (Mongolia, 2008–2010)

Richard Lopez served as an education Volunteer in Mongolia from 2008–2010. At the end of his service, he was chosen to lead a US embassy grant project, bringing language teachers to a marginalized Kazakh community in the far reaches of Mongolia.

Lopez has worked in the Community Relations department of the Oyu Tolgoi mining project in Mongolia alongside mid-management nationals. He regularly writes for Mongolian newspapers and websites. Lopez serves as a Communications Coordinator for Friends of Mongolia, a non-profit cultural partnership between Americans and Mongolians. He is currently studying at Columbia University's School of International & Public Affairs in pursuit of a Masters of Public Affairs degree.

San Francisco

Rosette Nguyen (Guinea, 1994–1996)

Rosette Nguyen served as an education Volunteer in Guinea from 1994–1996. Rosette serves on the board of the Sacramento Valley Returned Peace Corps Volunteers Association. She also plans for and executes third goal events. Additionally, she co-leads her neighborhood association of over 700 households and helps manage the Corporate Social Responsibility Program at her company's local office.

She graduated from the Kennedy School of Government, Harvard University with a Master in Public Administration. In addition to working closely with State of California government clients on large information technology systems, she also manages the marketing and social media for CGI's State of California strategic account.

She resides in Sacramento, California, with her husband and two young sons.

Seattle

Joshuah Marshall (Morocco, 2007–2009)

Joshuah Marshall served as rural health education Volunteer in Morocco from 2007–2009. He worked with the Ministry of Health to develop programs and trainings for community associations and medical staff around maternal and child health.

Marshall was born and raised on the Wind River Indian Reservation in Wyoming. After the Peace Corps he served on the board of the local RPCV group SEAPAX, and was appointed Vice Chair for the Seattle Human Rights Commission, by the mayor.

He is currently in the process of moving to Washington, D.C. to work with a public policy consultancy firm that focuses on education, energy, the environment, and economic development as regards Native American tribes and organizations.

Washington, DC

Sia Barbara Ferguson Kamara (Liberia, 1963–1965)

Sia Barbara Ferguson Kamara served as an education Volunteer for the small town of Tappita from 1963–1965 in Central Liberia.

President Jimmy Carter appointed her associate commissioner in the U. S. Department of Health and Human Services where she was responsible for the National Head Start Program, the Appalachian Regional Commission child development programs, child care regulations, and research and demonstration programs.

Kamara is currently a consultant with the Open Society Foundations' Early Childhood Program. In that capacity, she is a mentor/coach to the early childhood team at the Ministry of Education in Liberia, West Africa. Kamara retired as Administrator of the District of Columbia's Early Care and Education Administration in 2008.
News release of the event with photos
Last updated Jan 22 2014
Returned Volunteer Groups
Join a returned Volunteer group and share your Peace Corps experience with others.
RPCV Career Link
(formerly Hotline)
An interactive board of employment and educational opportunities for returned Peace Corps Volunteers.
RPCV Career Link