Lillian Carter Award Winners
2011 - Diane Gallagher
Former President Jimmy Carter and Peace Corps Deputy Director Carrie Hessler-Radelet presented the 2011 Lillian Carter Award to returned Peace Corps Volunteer Diane Gallagher, age 74, of Brookline, Mass. for her commitment to public service. Gallagher served as a Peace Corps Volunteer in Cape Verde from 1990 to 1992 at the age of 53.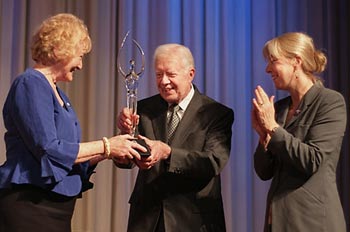 After Diane's two years of Peace Corps service in Cape Verde, she worked as a Peace Corps recruiter in the Boston Regional Recruitment Office from 1993 to 1998. "Miss Lillian was my inspiration to join the Peace Corps and I thought if she can go in at age 68, then I can certainly go in at age 53," said Diane. "As a returned Peace Corps Volunteer, I share stories and my love for my country of service with other Americans to bring my rich experience overseas home to the United States and recruit the next generation of Volunteers."
Today, Gallagher continues to promote Peace Corps by speaking at local schools, meetings, and events in the Boston area and sharing stories about her service with Peace Corps trainees about to depart for their host country.
2009 - Dr. Catherine Taylor Foster
Catherine Taylor Foster became a Peace Corps Volunteer in Nepal (1996-1998) at the age of 59, building upon a lifetime of serving others. She's a decorated Army nurse, a global humanitarian, foundation trustee, Fulbright Senior Scholar, and World Health Organization consultant.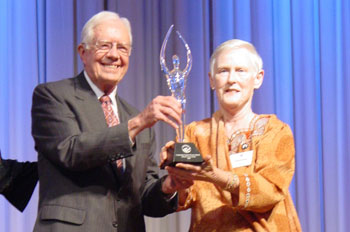 "The greatest gift I could give to the Nepalese people was the benefit of my years of health and nursing experience," says Dr. Foster, who lived in a remote region of Nepal where health care was not readily available. She worked alongside and educated local health staff and volunteers in treating and supporting patients, setting up clinics, and coordinating immunizations. "I became very attached to the country and the people and, in fact, returned to teach at Tribhuvan University in Kathmandu," she says.
Foster accepted an invitation to serve as a community health Volunteer after nearly 40 years in nursing and climbing to the status of colonel in the Army Nurse Corps, U.S. Army Reserve.
She has given numerous presentations about her Peace Corps experience and serves as a member of several Peace Corps and Nepali groups in the U.S. Dr. Foster continues her goodwill at the age of 72, volunteering in her community of Orland Park, Illinois, and throughout the world. "Helping those in need has no agelimits and no borders. Whether age 60 or 16, we have the power to make a difference, both near and far," she says.
2007 - Shirley Maly
The Peace Corps' 2007 Lillian Carter Award was presented to Shirley Maly at a ceremony at the Carter Center in Atlanta, Georgia on May 16, 2007. Presenting the award was former President Jimmy Carter and Jason Carter, son and great grandson respectively of Lillian Carter, the senior volunteer who inspired this award.
Maly was 60 years old in 1992 when she volunteered for the Peace Corps. She set off for Uraguay where she worked with women's groups, taught English and developed a local recycling program. Since her return home, Maly has promoted Peace Corps service as a viable retirement option. She has also continued her volunteer work with various organizations in the San Juan Islands, Puerto Rico, Costa Rico, Mexico, Peru and Brazil. In June 2005, Maly published the picture storybook Love Affair With The Americas chronicaling her experieces, including her Peace Corps service, in North, Central and South America.
Peace Corps Director Ron Tschetter also attended the event. Director Tschetter is a Returned Peace Corps Volunteer who served with Lillian Carter in the Peace Corps in India in 1968.
Last updated Jan 22 2014
Returned Volunteer Groups
Join a returned Volunteer group and share your Peace Corps experience with others.
RPCV Career Link
(formerly Hotline)
An interactive board of employment and educational opportunities for returned Peace Corps Volunteers.
RPCV Career Link