Lillian Carter Award
May 16, 2013 – Former President Jimmy Carter and Peace Corps Chief of Staff Stacy Rhodes presented the 2013 Lillian Carter Award to returned Peace Corps volunteer (RPCV) Helene Ballmann Dudley of Miami, Fla., Wednesday during a ceremony at the Carter Center in Atlanta. Dudley, 67, served as a Peace Corps volunteer in Slovakia from 1997-1999 at the age of 50. She had previously served in Colombia from 1968-1970.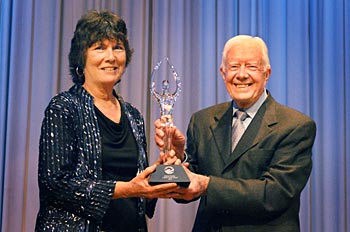 The Lillian Carter Award is a wonderful celebration of what is best about the Peace Corps—offering up some of America's best to the world, and bringing the world home to other Americans."
President Carter
Since Dudley's return from service in Slovakia, she has continued to promote the values of the Peace Corps by raising awareness of the organizationís mission and providing support to communities in the United States and abroad
Dudley served as president of the Returned Peace Corps Volunteers of South Florida (RPCVSF) from 2004-2007 and continues to be an active board member. Using the financial literacy skills she gained during her service in Slovakia, Dudley worked with fellow Colombia RPCVs to establish The Colombia Project, a micro-credit program that supports the Colombian community by connecting them with local grassroots organizations. Since establishing the program, Dudley has made dozens of trips to Colombia to visit program sites and conduct workshops to ensure sustainability. She has also written and published several newspaper articles in major publications to educate Americans about making a difference through Peace Corps service.
I feel that I gained far more from my Peace Corps service than I possibly could have given. I strongly feel that our nation needs Peace Corps now more than ever.
Helene Ballmann Dudley
Slovakia 1997–1999
The Lillian Carter Award was established in 1986 in honor of former President Carter's mother, Lillian, who served as a health volunteer in India in 1966 at age 68. Given out every two years, the award recognizes exceptional Peace Corps volunteers who served at age 50 or over and have continued to advance Peace Corpsí third goal: to promote a better understanding of other peoples on the part of Americans.
President Carter and the Peace Corps Present the 2013 Lillian Carter Award
(press release 05/16/2013)
Read about past winners and their accomplishments
Last updated Jan 22 2014
Returned Volunteer Groups
Join a returned Volunteer group and share your Peace Corps experience with others.
RPCV Career Link
(formerly Hotline)
An interactive board of employment and educational opportunities for returned Peace Corps Volunteers.
RPCV Career Link