Information about Ebola
Open Message from Director Carrie Hessler-Radelet
Like so many in the Peace Corps family and around the world, I'm heartbroken by the stories of suffering caused by the outbreak of Ebola in West Africa. As a public health professional who has spent time in that region of the world, I've laid awake at night, thinking of how the Peace Corps can help to combat this deadly disease, given our unique model and approach.
Read more of Carrie's message about what Peace Corps can do to fight Ebola
Health and Safety of Volunteers and Staff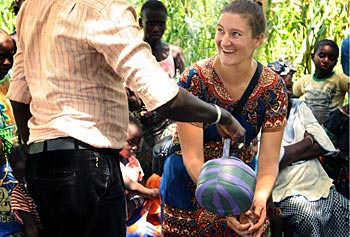 Peace Corps Volunteer Lindsay Swisher showing proper hand washing in her village, Saare Aladji, in Senegal's Tambacounda region, during the Ebola prevention/W.A.S.H. training. Photo courtesy of Peace Corps Volunteers Dario Bilakovic, Katie Curtis and Lindsay Swisher
The health, safety and security of Volunteers and staff are Peace Corps' top priorities. We continue to closely monitor the Ebola outbreak in collaboration with experts from the Centers for Disease Control and Prevention (CDC), the World Health Organization (WHO), and the U.S. Department of State.
While there have been isolated cases in other areas of Africa, the Ebola outbreak and the removal of Volunteers has been limited to Liberia, Sierra Leone and Guinea.
Health Guidance to Volunteers and Staff: Peace Corps is distributing training materials to all Volunteers and staff in Africa with educational information about Ebola, ideas for educating their communities, and key ways to keep themselves safe.
Volunteers removed from Guinea, Liberia, and Sierra Leone: In July, the Peace Corps announced the removal of Volunteers from Liberia, Sierra Leone and Guinea due to the increasing spread of the Ebola virus, and in October, officially suspended these programs.
How You Can Help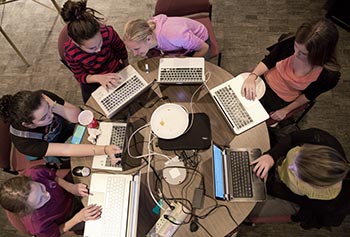 High school students in Washington, DC work on a mapping project to help fight Malaria in Botswana.
Help Map West African Communities: Contribute to OpenStreetMap, an easy way to trace satellite imagery that helps health workers on the ground.
Ebola Relief Effort: The National Peace Corps Association has partnered with recently evacuated Volunteers to support the most vulnerable communities.
USAID and NGOs Request Experienced Healthcare Workers: The United States Agency for International Development (USAID), together with its NGO partners, is actively reaching out to clinical medical personnel to help control and end the Ebola outbreak in West Africa.
Peace Corps Supports West Africa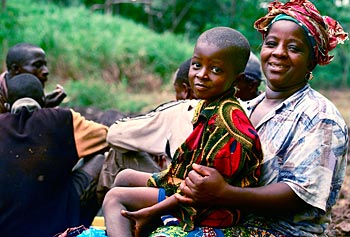 In the blog article "More than just a job — more than just Ebola" a Peace Corps Volunteer shares images and stories about her service in Guinea.
Current and Returned Peace Corps Volunteers from West Africa and beyond have joined the fight against Ebola.
Blogs about what Volunteers are doing to support the people of West Africa:
Learn the Facts about Ebola
Last updated Dec 03 2015