Peace Corps Volunteers Organize Health Fair for 1,000 Students in Cambodia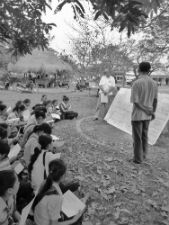 We had a great time working with our counterparts and the school, said Crotty, a graduate of the College of Mount St. Joseph in Cincinnati, Ohio who has been working as a health education extension volunteer since July 2011. The goal of this program is to create a productive model we could use at all of our schools and eventually our counterparts could create a health fair of their own once we were gone.
Throughout the day-long health fair, participants also learned how to properly sanitize water and separate trash and recycling. Students also practiced yoga, learned about the benefits of wearing a helmet, and engaged in discussions on the meaning of empowerment for young adults. Volunteers hope that the health fair will create a framework for future health-related fairs in Cambodia.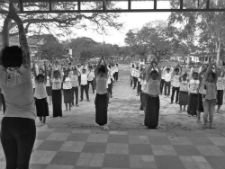 Peace Corps health volunteers help local communities meet basic public health needs through education and awareness. Heath volunteers provide access to safe drinking water, distribute bed nets for malaria prevention, educate communities about HIV/AIDS, teach sanitation measures and more. Even though Peace Corps volunteers are not medical care providers, they provide the skills and training to help keep communities healthy and safe. Today, 22 percent of Peace Corps volunteers work in the health/HIV sector.
About Peace Corps/Cambodia:
More than 190 Peace Corps volunteers have served in Cambodia since the program was established in 2007. Currently, 106 volunteers serve in Cambodia. Volunteers work in the areas of education and health. Volunteers are trained and work in the Khmer language.
About the Peace Corps:
Since President John F. Kennedy established the Peace Corps by executive order on March 1, 1961, more than 200,000 Americans have served in 139 host countries. Today, 9,095 volunteers are working with local communities in 75 host countries. Peace Corps volunteers must be U.S. citizens and at least 18 years of age. Peace Corps service is a 27-month commitment and the agencys mission is to promote world peace and friendship and a better understanding between Americans and people of other countries. Visit www.peacecorps.gov for more information.
Peace Corps RSS Feeds
Get Peace Corps headlines delivered in real-time from the Peace Corps RSS feed.
Digital Library
Share your service experience through stories and photos.