Peace Corps Volunteer Promotes Eco-Tourism in the Dominican Republic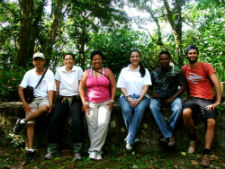 The primary goals of the eco-tourism projects are to create economic opportunities for local community members while preserving the natural beauty of the area, said Holder, a community environmental development volunteer who has served in the Dominican Republic since March 2010. Local participation is an integral component of the projects because it allows community members to continue servicing the trails and guiding tourists after Ive left.
In Northern Dominican Republic, Holder works with local mountain guides to clear debris and build stairs and look-out points along the existing trails. Additionally, Holder trains cable car operators to be nature guides.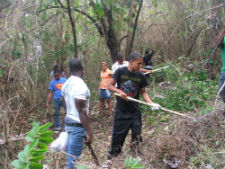 By teaching the cable car operators about the environment, theyll be able to educate visitors about the surrounding natural resources and earn a living as trail guides, said Holder.
While working in the undeveloped coastal region of Barahona-Barohuco in Southern Dominican Republic, Holder collaborated with local youth and a returned Peace Corps volunteer living in the area to develop and maintain a system of trails. They also worked together to build a rural campsite and expand an existing trails visitors center.
About Peace Corps/Dominican Republic:
More than 4,140 Peace Corps volunteers have served in the Dominican Republic (DR) since the program was established in 1962. Volunteers work in the areas of youth, family, and community development, community environmental development, healthy communities, education, community economic development, and appropriate technology. Many volunteers in the DR, regardless of sector, are trained to promote HIV/AIDS prevention and many other secondary projects. Volunteers are trained and work in Spanish and basic Haitian Kreyol. More than 210 volunteers are currently serving in the DR.
About the Peace Corps:
President John F. Kennedy established the Peace Corps on March 1, 1961, by executive order. Throughout 2011, Peace Corps is commemorating 50 years of promoting peace and friendship around the world. Historically, more than 200,000 Americans have served with the Peace Corps to promote a better understanding between Americans and the people of 139 host countries. Today, 9,095 volunteers are working with local communities in 75 host countries. Peace Corps volunteers must be U.S. citizens and at least 18 years of age. Peace Corps service is a 27-month commitment. Visit www.peacecorps.gov for more information.
Peace Corps RSS Feeds
Get Peace Corps headlines delivered in real-time from the Peace Corps RSS feed.