Peace Corps and the Presidents Malaria Initiative Announce Malaria Partnership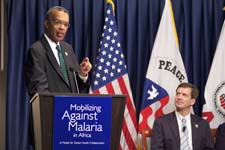 This partnership builds on the work of Peace Corps volunteers in Africa who have been leaders in malaria prevention for 50 years, said Peace Corps Director Williams. From distributing bed nets, eliminating mosquito breeding areas to teaching families about basic health practices, volunteers implement projects and solutions to help fight this preventable disease.
The event also featured Professor Awa Marie Coll-Seck, executive director, Roll Back Malaria Partnership; Michael Gerson, opinion writer,
Washington Post
; Andrea Gough, senior campaign associate, United Nations Foundation, Nothing but Nets campaign; Mark Green, senior director, U.S. Global Leadership Coalition and senior advisor, Malaria Policy Center; and Matt McLaughlin, program manager, Peace Corps Malaria Initiative for Africa.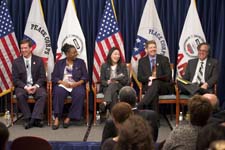 Peace Corps volunteers bring with them the spirit of sacrifice, dedication, and knowledge of the local setting that can only come from living with and serving local populations, often in the most difficult areas where we often find the greatest burden of malaria, said Dr. Shah. Volunteers access and cultural sensitivity, combined with PMIs know how, which is based on the combined strengths of USAID and CDC, presents unique opportunities to reach people in rural Africa with malaria control and prevention interventions.
Through the partnership, Peace Corps health and malaria-specific volunteers will work with accredited public health universities, and with malaria prevention experts from organizations like PMI, Malaria No More, and Population Service International (PSI) to bring targeted resources to volunteers in the field. Volunteers will coordinate with PMI to plan activities like indoor residual spraying, the distribution of mosquito nets and the monitoring, evaluation, and mapping of malaria data.
There are currently more than 3,000 Peace Corps volunteers serving in Africa. Volunteers work in malaria prevention projects in 25 sub-Saharan African countries.
About PMI: PMI is a U.S. government interagency initiative that works to reduce the burden of malaria in Africa. It is a key component of the Global Health Initiative, a six-year, comprehensive effort to reduce the burden of disease and promote healthy communities and families around the world. Visit www.fightingmalaria.gov for more information.
About the Peace Corps:
President John F. Kennedy established the Peace Corps on March 1, 1961, by executive order. Throughout 2011, Peace Corps is commemorating 50 years of promoting peace and friendship around the world. Historically, more than 200,000 Americans have served with the Peace Corps to promote a better understanding between Americans and the people of 139 host countries. Today, 8,655 volunteers are working with local communities in 77 host countries. Peace Corps volunteers must be U.S. citizens and at least 18 years of age. Peace Corps service is a 27-month commitment. Visit www.peacecorps.gov for more information.
Press Releases
Get Peace Corps press releases delivered to your inbox in real time.
Media Library
Share your service experience through photos and videos.