World Map Project Spans Five Continents
The following story was featured in Issue 1 of Peace Corps Times 2010, a quarterly publication produced by Peace Corps that highlights the service of Peace Corps Volunteers in the field.
The Netherlands had Rembrandt and Spain had Picasso. The Peace Corps has Barbara Jo White.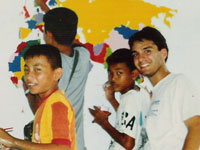 Her work may not be hanging in a museum, but it is no less visible. Whether its splashed on walls surrounding a playground in Ghana, exposing itself to natures elements, or displayed on the front wall of a schoolhouse in Thailand, The World Map Project endures.
While shell be the first to tell you she is not an artist, an idea that White launched 21 years ago while serving as a Volunteer in the Dominican Republic (19881990) finds other aspiring artists picking up a paint brush to leave their mark on the world today.
Nearly all of todays Peace Corps Volunteers have either participated in, or observed, a World Map Projectthe moniker for Whites idea that has found itself applied to nearly every surface imaginable.
While the fruits of her labor can be seen on at least five of the worlds seven continents, White says, I think it is just a small good idea, but once I did it, I thought it would be good to spread to other Peace Corps Volunteers and their communities.
Inter-America and Pacific Country Desk Officer Ella Ewart (RPCV/Peru, 20062008) says all Volunteers in Peru are asked to complete a World Map Project. Its such a great way to get integrated into the community. So many Volunteers work with children and youth and this is a great way to literally draw the connection between you, as a foreigner, and the community for the young people, she says, adding, It was really rewarding to me, as a Volunteer, to have the mapsomething tangible that I could point to and that I created hand in hand with the kids.
The seed that fueled the World Map Project was planted in Whites home in Cary, North Carolina, 10 years before her Peace Corps service. An album cover from the debut album of the musical group Boston featured a spaceship that would serve as a launching pad for future endeavors. It was my brothers favorite album and I thought, I wonder if I can paint this using a grid method, she remembers.
Leonardo Da Vinci used such a method to teach art. It divides the image you want to paint into smaller bite sized squares, and then you sketch each square onto the canvas. When youre done with the last square, your sketch is in perfect perspective and ready to paint.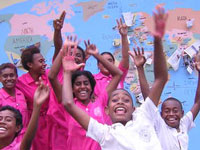 Success using the method in the 1970s would lead White to her most notable effort in the 1980s.
In her first year as an environment Volunteer in the Dominican Republic, White was traveling to an environmental education conference when a fellow Volunteer mentioned that she was going to write to National Geographic to get maps for her students. I said, The only way youre going to get a map to stay on the wall is to paint it there, White recalls.
In the words of the hit single from that popular Boston album, the energetic Volunteer had more than a feeling that the idea would become something bigger from that day forward. I always felt like I was on a mission with this thing. In a way, it never surprised me that it got this big. Good things just kind of happened, she says.
Applying the grid method to make her first world map, White says she initially utilized the Mercator projection method that makes countries further from the equator appear larger. She pasted pages together to devise a crude map. That got us through the test phase. Then National Geographic came out with its new projection world map and I traced that.
A year later she would find herself launching regional workshops with the help of a Peace Corps Partnership grant. A Volunteer from a neighboring area would come to one and lead the nextkind of a domino effect, she says.
She also outlined how to trace, label, and grid a world map in the May/June 1989 issue of Peace Corps Times. A sidebar told PCVs to write me for free gridded map pages, which I intended for them to do, though I had no idea how I would fill orders. Letters poured in and it really launched the project worldwide she says.
Such enthusiasm for the project continues today due to its simplicity and durability. As White explained in that same Peace Corps Times issue, Because few rural schools have maps and many students leave school in their teens, some children never see a world map or have a concept of the world. The only way many schools can get and keep a map is to have it painted on a wall.
The idea has launched new versions of maps, varying in language and style. A Volunteer in Madagascar made a map of her country, surrounded by all the different species of monkeys and plants exclusive to that country, White says.
Judee Blohm, publications specialist for overseas programming and training support, says the agency continues to get requests for the manual through its Knowledge Exchange Unit (KEU). Despite the hundreds of copies that have been distributed over the years, KEU regularly receives requests for it and regularly reprints it. The simple method of enlarging taught in the book is useful beyond maps, and the resource is cross-referenced in several other publications, such as Adapting Environmental Materials and the Classroom Management Idea Book, says Blohm.
The project has also grown to include a wide range of murals, with HIV/AIDS being among many topics Volunteers approach with paint and brush in hand. I always thought it wasnt exactly about geography, but is more about community. If we are a stronger community, we can be a stronger group of learners, White says, adding, I really think you could have made a mural of anything. Its really about the development processputting together a group of people to do something they didnt think they could do that will make their community a little better, using a few resources, and then being successful and moving on to another project.
Inter-America and Pacific Country Desk Officer Joshua ODonnell (RPCV/Georgia and Bulgaria, 20012003/20032004) suggests the project could be done to facilitate teamwork with at-risk youth or those working toward conflict resolution. I loved the project and have been looking to do it again in the United States, he says.
ODonnell had heard about the project in his first country of service (Georgia) and conducted an after-school English club activity that included a world map mural when he served in Bulgaria. We spoke English while working on the map, which was valuable for the students. They also learned about geography, he says.
While White wasnt focused on using maps for teaching purposes in the Dominican Republic, she notes that many of todays Volunteers develop lesson plans to go with their map projects. I also hear from Volunteers who devise their own gridded maps for their individual countries, she says.
Emily Hestness, an education specialist with the Coverdell World Wise Schools Program at Peace Corps, says many Volunteers share such innovative ideas with students in the U.S.
A Volunteer in Burkina Faso began a World Map Project in his host country and then arranged for his correspondence match school to engage in the project simultaneously. The older students at the Illinois elementary school he is corresponding with will work with their teachers to create the map. The younger students, including the correspondence match kindergartners, will assist the older students and do smaller-scale map activities in their classroom, says Hestness.
Students from schools in Burkina Faso and the U.S. will exchange photos and share updates about their progress. Through this collaboration, the Peace Corps Volunteer, students, and teachers will do more than improve their geography knowledge; they will experience a unique connection across place and culture through shared learning, Hestness adds.
Many Volunteers use a World Map Project manual that White updated in 1995, before taking a 15-year hiatus to finish two masters degrees and a doctorate in business administration. She also began her teaching career at Western Carolina University, where she has served as an assistant professor of information systems for the past five years.
She spoke about the map project on the Today Show with Willard Scott as part of the Peace Corps 30th anniversary in 1990 and her enthusiasm for the project has been renewed as the agencys 50th anniversary approaches.
While working on a World Map Project website, she started tweeting with Volunteers and discovered many were blogging about their maps as well. One PCV had also requested an update of the map. Thats when I realized that The World Map Project had a life of its own and is in good PCV hands, she says.
White bought the domain for the website TheWorldMapProject.com in June of 2009 and hopes to update a manual in cooperation with the Peace Corps in 2010.
She also remains hopeful that the project she launched in 1988 spurs more ideas in the coming years. When I think about projects like it, there are a lot of good ideas out there. The difference is a little bit of promotion because sometimes, accidentally, we keep good things to ourselves, she says.
# # #
Press Releases
Get Peace Corps press releases delivered to your inbox in real time.
Media Library
Share your service experience through photos and videos.