Congratulations to the winners of the Viewfinder Photo Contest!
We asked Volunteers and RPCVs to share "defining moments" from their Peace Corps Service through the Viewfinder photo contest and received hundreds of photos in response. The winning photographs are being featured in a nationwide advertising campaign, and served as the inspiration for the new "Defining Moments" video featuring the song Peace by O.A.R.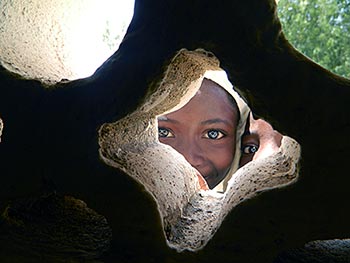 FIRST PLACE
On Christmas Day, I was inside a church celebrating the holiday with the local Catholic population when I saw this young Muslim girl looking through the wall of the church. Having just arrived in the Muslim-majority village a few days earlier, I was amazed at how peacefully the different religious groups coexist.
Natalie Moore, Burkina Faso 2012–14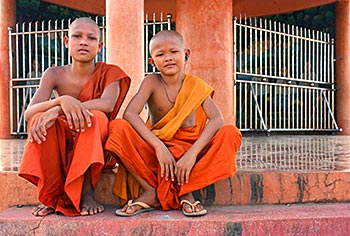 SECOND PLACE
I saw these two young monks sitting together chatting, when I noticed one of them listening music with headphones in his ears. They seemed to be enjoying each other's company and just be ordinary kids, which reminded me that although I'm living in a vastly different culture than my own, there are many similarities.
Westen Thomas, Cambodia 2013–15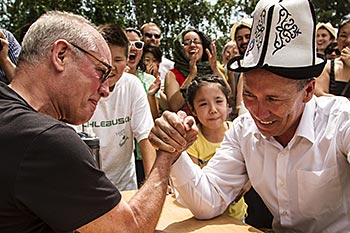 THIRD PLACE
A few weeks before the 22nd group of Kyrgyz Republic Volunteers swore in, we had a culture celebration at our training site. Here, a Volunteer (left) faced off against our language and cross-cultural trainer in an exciting arm-wrestling match. The trainer's daughter stands beside him, offering encouragement, while fellow Volunteers cheer for both.
Jonathan Foster-Moore, Kyrgyz Republic 2014–16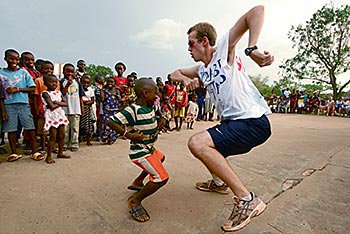 HONORABLE MENTION
During halftime at an AIDS awareness basketball game, a young boy and a Volunteer demonstrate their best dance moves in Kankan, Guinea. The game followed an interactive AIDS informational session for community members hosted by Peace Corps Volunteers in Upper Guinea.
Cappy Phalen, Guinea 2013–16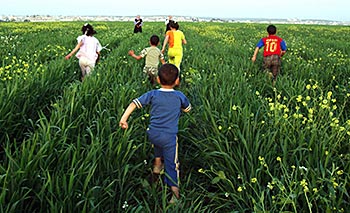 HONORABLE MENTION
After a harsh winter in northern Jordan, with snow and staying mainly indoors, I finally had a chance to explore the great parts of my new home. With my tiny neighbors leading the way, we headed to the vast verdant fields behind the village, where the children showed me how they run and play freely in their hometown. My only regret that day was not wearing my tennis shoes.
Michelle Chan, Jordan 2011–13
All entries will be added to the Peace Corps Digital Library, a searchable collection of electronic Peace Corps materials from 1961-present. This collection consists of select materials from the Peace Corps archives and contributions from current and returned Peace Corps Volunteers and staff.
Last updated Jun 27 2014