Christopher Dodd
Former U.S. Senator, Connecticut
(Dominican Republic 1966-68)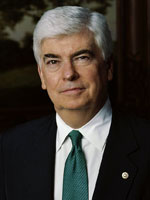 Chris Dodd is a former U.S. Senator from Connecticut. Senator Dodd served three terms in the House of Representatives; Connecticut's Second District and served five terms in the U.S. Senate. Senator Dodd served on the following U.S. Senate committees: Banking, Housing & Urban Affairs; Senate Rules & Administration; Health, Education, Labor & Pensions; and Foreign Relations.
Senator Dodd served as a Peace Corps Volunteer in the Dominican Republic village of Monción from 1966-68. "Over 40 years ago, when I arrived in the Dominican Republic as an English major who spoke almost no Spanish, I was asked a question I've been asked a thousand times since: 'Why did you join the Peace Corps?' The answer was simple: because an American president asked me to. My experience in the Peace Corps was perhaps the most formidable and richest of my life, and it is why I have spent my life in public service and continue to urge others to serve our great nation." Soon after Senator Dodd returned to the United States from his service in the Dominican Republic, he enlisted in the Army National Guard and later joined the U.S. Army Reserves.
In addition to his support of the Peace Corps, Senator Dodd is also a proponent for children and families. He formed the first Senate Children's Caucus and is the Founder and Chair of the bipartisan Senate Afterschool Caucus to guarantee that quality afterschool programs are available. The National Head Start Association honored him for his efforts on behalf of children as the "Senator of the Decade." Senator Dodd is also the proud father of two daughters.
Last updated Nov 20 2013
Fast Facts on Paper
Download the Peace Corps Fact Sheet for easy printing.
Fact Sheet (PDF)
This file is in PDF format and require the free Adobe Acrobat Reader.
Media Library
Share your service experience through photos and videos.