Christopher R. Hill
U.S. Abassador to Iraq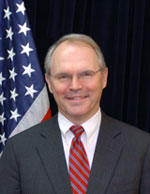 Christopher R. Hill was confirmed by the Senate to serve as U.S. Ambassador to Iraq on April 21, 2009.
Ambassador Hill is a career member of the Senior Foreign Service whose most recent assignment was as Assistant Secretary of State for East Asian and Pacific Affairs. On February 14, 2005, he was named as the Head of the U.S. delegation to the Six-Party Talks on the North Korean nuclear issue. Previously he has served as U.S. Ambassador to Poland (2000-2004), Ambassador to the Republic of Macedonia (1996-1999) and Special Envoy to Kosovo (1998-1999). He also served as Special Assistant to the President and Senior Director for Southeast European Affairs in the National Security Council.
Ambassador Hill received the State Department's Distinguished Service Award for his contributions as a member of the U.S. negotiating team in the Bosnia peace settlement, and was a recipient of the Robert S. Frasure Award for Peace Negotiations for his work on the Kosovo crisis.
Prior to joining the Foreign Service, Ambassador Hill served as a Peace Corps Volunteer in Cameroon (1974-1976).
Last updated Nov 20 2013
Fast Facts on Paper
Download the Peace Corps Fact Sheet for easy printing.
Fact Sheet (PDF)
This file is in PDF format and require the free Adobe Acrobat Reader.
Media Library
Share your service experience through photos and videos.