Michael McCaskey
Former Chairman of the Board, Chicago Bears
(Ethiopia 1965–67)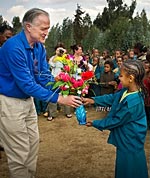 After receiving his B.A. from Yale, Michael McCaskey served as a Peace Corps Volunteer in Ethiopia from 1965-1967. He taught science, English, and music to junior high school students in Fiche, a somewhat remote farming village and provincial trading center north of Addis Abeba. "My two years there stretched and challenged me, at the same time I was learning about Ethiopian people and culture,' McCaskey said.
Following his Peace Corps service, he earned a PhD in Organizational Behavior and taught in the graduate schools of business of UCLA and Harvard for ten years. In 1983 McCaskey joined the Chicago Bears as President/CEO and served as chairman until 2011.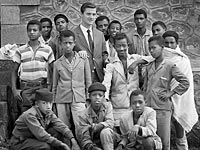 Several years ago McCaskey joined with four other returned Volunteers to try to help mediate growing conflicts between Ethiopia and Eritrea.
n March 2011, he traveled to Ethiopia with fellow returned volunteer and family members, where he enjoyed reconnecting with more than a dozen of his former students.
He and his wife Nancy have two children.
Last updated Nov 20 2013
Fast Facts on Paper
Download the Peace Corps Fact Sheet for easy printing.
Fact Sheet (PDF)
This file is in PDF format and require the free Adobe Acrobat Reader.
Media Library
Share your service experience through photos and videos.